Former Ukrainian Interior Minister appeals sentence in spy case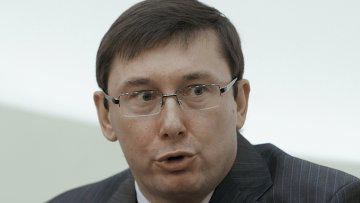 14:23 30/08/2012
KIEV, AUGUST 30 - RAPSI. Defense attorneys for former Ukrainian Interior Minister Yuri Lutsenko have filed an appealed against the sentence in Lutsenko's second criminal case, his attorney Alexei Baganets said on Wednesday.
This second criminal case against Lutsenko is based on accusations of illegal eavesdropping and spying on the driver of former First Deputy Chief of the Ukrainian Security Service, Vladimir Satsyuk. The matter is being considered as part of former President Viktor Yushchenko's poisoning case. The former minister claims he is innocent and says his prosecution is politically motivated.
On August 17 Kiev's Pechorsky District Court found Lutsenko guilty of negligence in the second criminal case against the former minister and sentenced him to two years in prison.
In February the court sentenced Lutsenko to four years in prison in another criminal case having found him guilty of misappropriating state funds and abuse of power. The court of appeals upheld this first sentence.
In Ukraine, if an individual is convicted in more than one trial, only the longer of the terms will be served. Therefore, the prison term of the former interior minister will remain the same.
The attorney said that the defense filed an appeal on Wednesday, while Lutsenko filed an appeal against his sentence on August 21.
The attorney stressed that the only hope is the European Court of Human Rights.