Constitutional Court not notified of Gudkov appeal signature retraction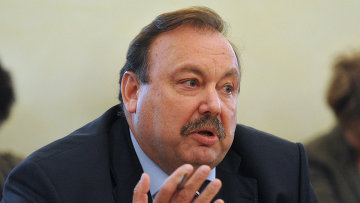 13:03 18/09/2012
ST. PETERSBURG, September 18 - RAPSI. Russia's Constitutional Court has not received yet any notification of the retraction of signatures attached to the request regarding premature stripping of lawmaker Gennady Gudkov's power.
"A declaration retracting a signature has not yet been filed," a representative of the Constitutional Court's press service told RIA Novosti. He added that the application may take about two to three months to be considered.
It was previously reported that A Just Russia party members Alexei Chepa, Oleg Mikheyev and Sergei Petrov had retracted their signatures from a request by a parliamentary coalition to the Constitutional Court for a review of the constitutionality of the lower house decision to strip Gennady Gudkov of his political authority.
Last Friday, the State Duma stripped Gudkov of his mandate after the investigative authorities accused him of engaging in commercial activities - a violation of the law on lawmaker status. According to the current Russian legislation, deputies are not permitted to be involved in business.
116 deputies - 58 from each opposition party, including faction leaders Sergei Mironov (A Just Russia) and Gennady Zyuganov (The Communist Party) - signed the application to the Constitutional Court.
First Deputy Head of A Just Russia faction Oxana Dmitriyeva said that the revocation of three signatures will likely have no impact on the application's consideration.
The representative of the court's press service abstained from comment.