Witness in Mirzayev case files defamation claim against victim's father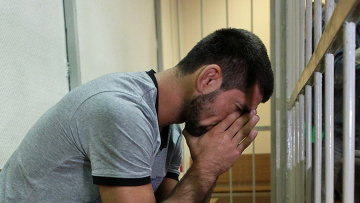 11:33 20/09/2012
MOSCOW, September 20 - RAPSI. A witness in the case against mixed martial artist Rasul Mirzayev, who stands accused of the punching death of 19-year-old Ivan Agafonov, has filed a claim for defamation against Alexander Agafonov, the father of the deceased student, the Advokat PRO law firm told the Russian Legal Information Agency (RAPSI/rapsinews.com) on Thursday.
Mirzayev is accused of having negligently caused the student's death during a brawl outside of a popular Moscow nightclub.
The law firm said that the lawsuit was submitted in defense of witness Alla Kosogorova as on July 27, while being questioned at the Zamoskvoretsky District Court, Alexander Agafonov publically offended her by making negative comments about her personality.
Kosogorova demands that the comments Agafonov made are declared false and is also seeking one ruble ($0.03) in moral damages.
The hearing of the defamation lawsuit will be held at the Moscow Kuntsevsky District Court on September 24.
Prior to his arrest, Mirzayev had been widely regarded as a promising MMA fighter. He was undefeated in the ring and two of his five victories were won with knockout punches. On August 16, 2011, between the incident and his arrest, Mirzayev made headlines throughout the MMA world for having signed a professional multifight contract with sponsor Bellator Fighting Championships.
Mirzayev was initially charged with intentional infliction of grievous bodily harm resulting in the death of 19-year-old student Ivan Agafonov. During their fight outside a Moscow nightclub, Agafonov received a blow to the head and collapsed. He died in a hospital several days later without regaining consciousness.
The defense has insisted on reclassifying the charges against the martial artist, asserting that Agafonov died as a result of hitting the ground, as opposed to directly from the blow itself. Numerous examinations have been held under the case to determine the power of Mirzayev's punch and its relation to the student's death.
Mirzayev faces up to 15 years in prison.
The next hearing into Mirzayev's case has been set for October 17; the judge requires the results of the examination which will be undertaken by specialists of the Healthcare Ministry's Russian Center of Forensic Medical Examinations in order to pass the ruling.