Civil claimants in Pussy Riot case seek postponement til sentence takes effect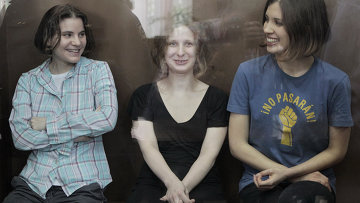 15:25 20/09/2012
MOSCOW, September 20 - RAPSI. Novosibirsk resident Ivan Krasnitsky and Berdsk resident Yuri Zadoy, each of whom have filed civil lawsuits seeking compensation for moral harm from Pussy Riot, have asked the Kuntsevsky District Court to postpone its consideration of their applications until the group's sentence takes effect, Alexei Krestyanov, Krasnitsky's representative, told the Russian Legal Information Agency (RAPSI/rapsinews.com) on Thursday.
"Our clients submitted to the court documents requesting to postpone the hearing until the sentence of the Pussy Riot band members takes effect," Krestyanov said. "We understood in court (during the consideration of a similar lawsuit filed by Novosibirsk resident Irina Ruzankina) that the defendants' representatives do not know if the women held a rally at the cathedral. We cannot prove this either."
The applicants said they were offended by Pussy Riot's actions and seek to recover from the defendants compensation for moral harm, or 30,000 rubles ($959).
Initially, three claims were filed by Krasnitsky, Ruzankina, and Zadoy. The Moscow Kuntsevsky District Court dismissed Ruzankina's lawsuit on the compensation of moral harm.
On February 21, 2012, five young women wearing brightly colored balaclavas stood at the altar of Moscow's Christ the Savior Cathedral to perform a protest song entitled, "Holy Sh*t." Shortly thereafter, an edited video of the performance was uploaded on to the Internet and incited a public outcry.
Pussy Riot members Nadezhda Tolokonnikova, Maria Alyokhina and Yekaterina Samutsevich were convicted of disorderly conduct and sentenced on August 17.
In accordance with the law, the sentence has not yet taken effect.
The Moscow District Court's panel for criminal cases will hear the group members' appeals on October 1.
The court has postponed the consideration of the compensation lawsuits until October 3. The applicants are determined to take part in the hearings.