Pussy Riot attorney vows conditional sentence is not final victory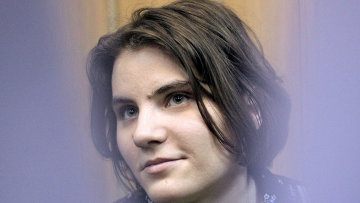 17:50 10/10/2012
MOSCOW, October 10 - RAPSI. Convicted Pussy Riot member Yekaterina Samutsevich's conditional sentence is not the final victory in the case, her attorney Irina Khrunova told journalists on Tuesday.
The Moscow City Court released Samutsevich in the courtroom after her two-year prison sentence was replaced with probation.
The sentence for the two other punk-style prayer performers Maria Alyokhina and Nadezhda Tolokonnikova has been upheld and they will serve their prison sentence.
"This is a victory, but not the final victory, as she was declared guilty," she said. "Regardless, she is pleased with the ruling because living in prison is awful, especially for a woman." After consulting with her client, the lawyer will decide whether to file an application with the Moscow City Courts presidium or the European Court of Human Rights.
She added that the court took due account of Samutsevichs individual role in the incident. Her actions differed from the conduct of the other band members.
"She did not deny her guilt," the attorney said. "She said she helped with the preparations, but she had no time to actually take part."
Samutsevich replaced her attorney at the appeals stage.
The Khamovnichesky District Court in Moscow sentenced Pussy Riot members Nadezhda Tolokonnikova, Maria Alyokhina and Yekaterina Samutsevich to two years in prison on August 17. The prosecutor requested a three-year sentence, although the Criminal Code stipulates that the maximum punishment for this kind of offence is seven years in prison. Nonetheless, the aggrieved parties believe that the custodial sentence could well be replaced by a conditional one.