Pussy Riot members request to serve time in Moscow denied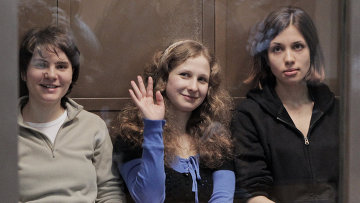 19:58 10/10/2012
MOSCOW, October 10 - RAPSI. Pussy Riot punk rock collective members Nadezhda Tolokonnikova and Maria Alyokhina will not be allowed to serve their prison sentences in Moscow, Russia's Federal Penitentiary Service (FPS) told RIA Novosti Wednesday.
According to the FPS, Tolokonnikova and Alyokhina filed a request pleading that prison leadership allow them to remain in the institution that they've been serving in until this point.
"In connection with the fact that the convicts are expected to perform a certain type of maintenance work, and considering that this facility is currently fully staffed, the facility administration chose not to satisfy the appeal," the press office explained.
The press office clarified that with regard to where the prisoners will serve their sentences, the prison administration has reported to one of the family members of each of the girls.
The Moscow City Court commuted Pussy Riot member Yekaterina Samutsevich's hooliganism sentence Wednesday from two years in a prison colony to immediate release with probation during the group's appeal of its collective sentence for hooliganism motivated by religious enmity. The judge left the sentences of Tolokonnikova and Alyokhina untouched, however.
In the first instance, the Khamovnichesky District Court in Moscow sentenced the Pussy Riot members to two years in prison on August 17. The prosecutor requested a three-year sentence, although the Criminal Code stipulates that the maximum punishment for this kind of offence is seven years in prison.
In late February, five young women wearing brightly colored balaclavas performed a "punk-style" prayer at the altar of Moscow's Christ the Savior Cathedral. An edited video of their performance was posted on the Internet, causing a public outcry. Samutsevich maintains that she was not one of the women seen performing on the altar in the video, as she had been apprehended by security before she was able to make it all the way there.
While she was in the cathedral, wearing a balaclava and clutching a guitar, she argues that she did not have the opportunity to participate in the protest itself, and thus was not afforded the opportunity to engage in any of the activities deemed to have offended the religious sensitivities of Orthodox devotees.