Former Master-Bank VP arrested for illegally procuring $64 mln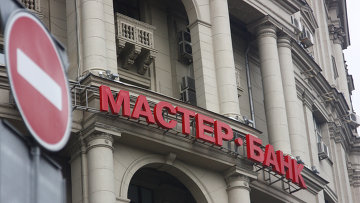 18:06 12/10/2012
MOSCOW, October 12 - RAPSI. Moscow's Tverskoy District Court issued an arrest warrant for former Master-Bank Vice President Evgeny Rogachyov on Tuesday. Rogachyov is suspected of illegally procuring $64 million cash, the Interior Ministry's Economic Security and Anti-Corruption Department reported on Friday.
"The measure of restraint has been changed as the suspect repeatedly escaped from his apartment, where he was kept under house arrest," according to the report.
Master-Bank was established in 1992. It is one of Russia's 100 largest banks. Its charter capital is $104.08 million.
Rogachyov is reported to be a member of an organized group suspected of illegally cashing out 2 billion rubles ($64 million). The group offered businessmen a range of services, including tax evasion schemes and money laundering.
The Interior Ministry said the regulatory authority had been notified of the violations in Master-Bank's dealings.
Banking malpractices have also been uncovered in a number of other banks. Investigators have revealed that their managements used fly-by-night companies to transfer funds under false payment orders to their accounts for subsequent withdrawal. The scheme operators charged 3 to 7 percent for their services.
Several group members are under investigation with regard to illegal banking operations. A case has been opened on charges of unlawful banking, which carries a maximum punishment of seven years in prison.
In its turn Master Bank claims that no unplanned control measures performed by Bank of Russia according to any initiative of Economic Security Department's are carried out at the bank as it was declared earlier. "Evgeny Rogachyov has never served as Vice President of the Master-Bank. He served as head of corporate business. March 1, 2012 he was dismissed from the Master-Bank at his will. Bank operates in a normal mode, providing high-quality services customers", the press service of the bank told the agency " Prime ".
The last audit by the Central Bank of the Russian Federation completed in July this year has confirmed no major complaints about the activities of the bank , Master-Bank said in a statement issued on Friday.