Charges brought against former Ukrainian president's bodyguard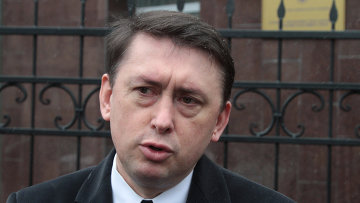 14:00 25/10/2012
KIEV, October 25 - RAPSI. The Ukrainian Prosecutor's Office has brought charges against Mykola Melnichenko, who once served as the bodyguard of former President Leonid Kuchma, the UNIAN information agency has reported on Thursday, citing his attorney Mykola Nedilko.
A criminal case has been launched against Melnichenko for disclosing state secrets, abuse of power and creating artificial evidence.
The attorney said the charges were brought against his client on Wednesday.
Melnichenko will be kept in an investigative isolation ward before the preventive measures are chosen in the case. The trial is expected to begin on Thursday or Friday.
Melnichenko was previously placed on the international wanted list.
The bodyguard became widely known after he recorded an individual who sounded like Kuchma giving orders in the presidential office to "settle affairs" with journalist Georgy Gongadze, whose beheaded body was later found in the Kiev region in autumn 2000.
As a result, Kuchma was accused of having been involved in the murder. However, the court ruled that the case against him was illegal, as the recording had been taken without permission.