Appeal of refusal to fine opposition activist Udaltsov dismissed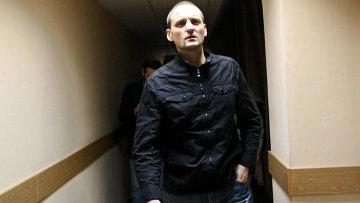 18:01 31/10/2012
MOSCOW, October 31 - RAPSI. The Meshchansky District Court of Moscow has dismissed an appeal launched by police challenging the court's refusal to arrest Left Front movement coordinator Sergei Udaltsov for the protest rallies held on Sakharov Avenue on September 15, Yulia Katayeva, the court's spokesperson told RAPSI Wednesday.
She noted that Magistrate Court No. 381 had dropped the administrative case against Udaltsov on September 26. He had been charged with violating the established order for holding rallies, demonstrations and pickets, which is punishable by fines ranging from 20,000 ($638) to 30,000 ($959) rubles.
Udaltsov said the police detained him five minutes before the authorized rally ended, and the officers tried to convince the judge that the opposition figure had organized an unauthorized rally.
The court sided with the defendant, and dropped the administrative case against Udaltsov.
"The police did not agree with the ruling and disputed it in a higher instance court. But the appeal was dismissed on Wednesday as it was filed by an unauthorized individual," the press secretary said.
The opposition rallies were held in Moscow on September 15 from 2-10pm. According to official count, a total of 14,000 people gathered at the rally.
A case on charges of organizing mass riots has also been initiated against Udaltsov, his aide Konstantin Lebedev, and Leonid Razvozzhayev after the TV premiere of the documentary film, "Anatomy of Protest 2." Udaltsov faces four to 10 years in prison. The suspects' homes have been searched.
The filmmakers of the documentary shown on NTV, a channel owned by state-run Gazprom, claim the opposition is preparing a coup using funds from abroad. The film shows Udaltsov and his companions allegedly talking with Georgia's then- Parliamentary Defense and Security Committee head Givi Targamadze, who is said to be experienced in planning "color" revolutions in Georgia and Ukraine, as well as mass riots in Belarus.
The investigation into the film established that the voice in the scenes filmed using a hidden camera was Udaltsov's and that the meeting shown in the film took place in Minsk last June.
Pursuant to the ruling, Razvozzhayev and Lebedev have been held in an investigative isolation ward.
Udaltsov has been released under his own recognizance.