Medvedev believes convicted Pussy Riot members should be released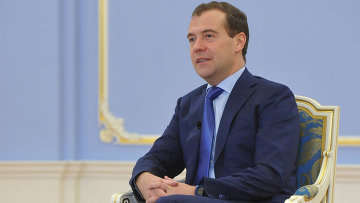 16:05 02/11/2012
GORKI, November 2 - RAPSI. Prime Minister Dmitry Medvedev has stated that the Pussy Riot band's imprisonment is wrong and they should be released, but added that the issue falls within the competence of the court.
"This issue should be addressed not to me, but to our legal structures and their lawyers," he said at a meeting with winners of international educational competitions on Friday. "They have the right to submit the corresponding applications, and I think they will use their right. And the court is entitled to consider them on their merits."
He added that he has already expressed his position on the issue.
"I said a long time ago - I really dislike them and I only have negative feelings for them," he said. "My feelings are so negative that even speaking about them is unpleasant. But I would not put them in prison as a judge. I don't think it is right that they are in prison. Their freedom was already limited (while they were in custody during the trial). One of them was lucky to be released. Everything else falls within the competence of the court, and the defense and corresponding judicial and prosecution authorities."
He underscored that personally he never considered them to be a rock group.
"I have some doubts that the band, which is known not only in Russia but also abroad, has anything to do with music," he said. "I don't think so. They did not sing anything that would be an instant classic or be popular on the Internet. And there is no music. I've never heard any."