ECHR requests additional materials in Moscow riots case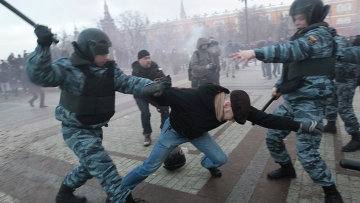 17:39 19/11/2012
MOSCOW, November 19 - RAPSI. The European Court of Human Rights has asked for additional materials to supplement its consideration of the cases concerning individuals who were convicted of taking part in Moscow's Manezh Square riots in 2010, attorney Dmitry Agranovsky told the Russian Legal Information Agency (RAPSI/rapsinews.com) on Monday.
"The minutes of a court hearing in full, our protocol, which we had maintained at the time, and all our audio records and transcripts, have been asked. Some doubts arose about the trial," the attorney said, adding that the case is being prepared for discussion with the Russian authorities.
"This is a good sign. It means that a question came up," Agranovsky said.
"The application was filed with the Strasbourg court regarding Igor Berezyuk, Ruslan Khabayev, and Kirill Unchuk," the attorney said earlier.
The application was filed due to the violation of Article Six of the European Convention of Human Rights, he said. Agranovsky has also filed a supervisory appeal with the Moscow City Court's presidium. Article 6 of the convention protects fair trial rights.
According to the prosecution, as many as 5,000 football fans and nationalists caused public unrest on December 11, 2010 in Moscow after a rally to commemorate FC Spartak fan Yegor Sviridov, who was shot dead on December 6, 2010. Thirty-two people were injured in the riots.
The Tverskoy District Court sentenced five individuals to prison terms ranging from 2 to 5.5. years in October 2011.
In March, the Moscow City Court reduced by several months the punishment for the three defendants. Khubayev received three years and nine months instead of four years.
Berezyuk, a Strategy 31 participant, had his sentence reduced by three months to five years and three months.
The court reduced Alexander Kozevin's sentence to two years and four months instead of 2.5 years.