Pussy Riot video case will not involve Samutsevich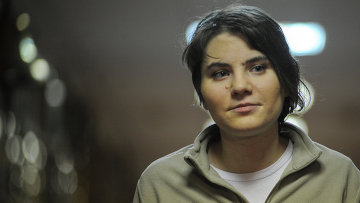 12:45 20/11/2012
MOSCOW, November 20 - RAPSI. The Moscow Zamoskvoretsky District Court has refused to involve Yekaterina Samutsevich in the case on declaring the video of Pussy Riots punk prayer at the Christ the Savior Cathedral extremist, the court told the Russian Legal Information Agency (RAPSI/rapsinews.com).
Samutsevich requested to be involved as a stakeholder to the case, saying that if the video were found extremist, it would be more difficult for the punk group's members to defend themselves at the supervisory instance and in the consideration of their appeal at the European Court of Human Rights. In addition, Samutsevich believed that the court ruling could affect the fate of Maria Alyokhina and Nadezhda Tolokonnikova, who are currently serving a two year prison term.
The video in question is a montage of the girls' performance of their punk rock protest song from the altar of Christ the Savior Cathedral in central Moscow shortly before the March 2012 presidential elections which were to return prime minister Putin back to the presidency. Dancing around raucously in brightly colored balaclavas and mini-dresses, and executing a series of high kicks, the Pussy Riot members shouted requests to the Virgin Mary to "chase Putin out." The video was posted online and evoked a massive public outcry.
Tolokonnikova, Alyokhina, and Samutsevich were arrested shortly thereafter.
The Khamovnichesky District Court sentenced the three Pussy Riot members to two years in prison on August 17. Later, the Moscow City Court commuted Samutsevich's sentence from two years in prison to immediate release on probation due to the fact that she was detained by security prior to reaching the altar, and so did not actually participate in the protest.
The judge left Tolokonnikova and Alyokhina's sentences intact.
Prosecutors filed for the video to be declared extremist last week on the basis of psycho-linguistic examination results which were submitted to the prosecutors' office by lower house legislator Alexander Starovoytov, of the Liberal Democratic Party.
Earlier last week, Yekaterina Samutsevich filed a motion to be involved as a third party in the hearing, but it was rejected. The court said that at that point the prosecution had not yet submitted its application, so, as of yet, there was no hearing to join.