Oppositionist Razvozzhayev to file complaint against investigators with ECHR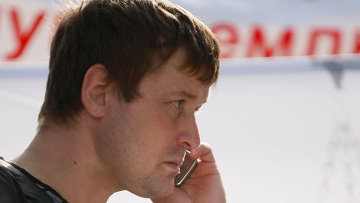 16:45 11/12/2012
MOSCOW, December 11 - RAPSI. The defense of opposition figure Leonid Razvozzhayev, who has been charged with organizing mass riots in Russia, has stated that the claims made by investigators that the opposition was financed by Georgian politician Givi Targamadze violate the principle of the presumption of innocence.
The defense plans to submit a complaint to the European Court of Human Rights in the near future, Razvozzhayev's lawyer Dmitry Agranovsky told the Russian Legal Information Agency (RAPSI/rapsinews.com).
On Tuesday, Investigative Committee spokesperson Vladimir Markin said the materials collected during the preliminary investigation prove that Targamadze financed the unlawful activity of Left Front movement coordinator Sergei Udaltsov, his aide Konstantin Lebedev, and Razvozzhayev in organizing the riots.
According to Markin, it has been established that in spring 2012 a group of Russians went to Lithuania to take part in workshops devoted to the "color" revolutions that took place in other countries.
Razvozzhayev's attorney said the complaint will be filed based on a violation of the article of the European Convention of Human Rights on the right to the presumption of innocence.
On October 19, the Investigative Committee placed Razvozzhayev on the federal wanted list. He was charged with organizing public unrest together with Udaltsov and Lebedev. The case against them was initiated after the broadcast of the "Anatomy of Protest 2" documentary film on the NTV broadcasting network.
The film claimed that the opposition was organizing a coup using funds from abroad and showed Udaltsov and his companions allegedly talking with Targamadze, who at the time headed Georgia's Parliamentary Defense and Security Committee, and is said to have been involved in planning the "color" revolutions in Georgia and Ukraine, as well as the mass riots in Belarus.
Initially, Razvozzhayev issued a full confession. However, he later claimed that he had confessed under pressure and that he had been tortured.