Kazakh border guard sentenced to life for murdering 15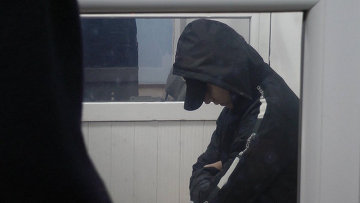 18:09 11/12/2012
TALDY-KURGAN (Kazakhstan), December 11 – RAPSI. The Inter-District Military Court for Criminal Cases has found 19-year-old Kazakh border guard Vladislav Chelakh guilty of murdering 15 people at the Arkankergen border post in Kazakhstan and sentenced him to life imprisonment at a maximum security penal colony.
The court has also partially upheld the lawsuits filed by the victims to recover over $218,000 in material and moral damages from the convict.
Chelakh has been accused of murder, theft, illegally obtaining and distributing of state secrets; embezzlement or extortion of weapons, ammo, explosive devices; illegal acquisition, transfer, sale, storage, transfer or carrying of weapons and explosive devices; intentional destruction or damaging of military equipment; desertion, violation of the housing's inviolability.
The massacre at the Arkankergen border post took place in May. The post went off the air, and a border guard unit was soon sent to the location from another post. The latter found that the barrack had been burned down and 14 dead people were inside. The body of a hunter was found at a house nearby.
Private Chelakh, the sole survivor, was detained several days later.
The border guard initially confessed to murdering his colleagues and the huntsman, but later denied his testimony, claiming that he had testified under pressure.
Chelakh was inconsolable in the courtroom when the verdict was handed down. His mother Svetlana Vashchenko has vowed to appeal his sentence.