Navalny notified of second criminal case against him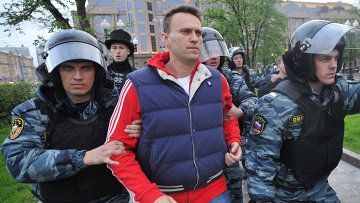 16:50 17/12/2012
MOSCOW, December 17 - RAPSI. Opposition figure and renowned blogger Alexei Navalny has officially been notified that the Investigative Committee has opened a second case against him, he wrote on his Twitter page on Monday.
Last Friday, investigators reported that a fraud case has been opened against Navalny and his brother. The maximum punishment for the crime is 10 years in prison.
"Oleg and Alexei Navalny embezzled over 55 million rubles ($1.7 million) from a trade company... In order to legalize the illegally obtained funds, the Navalny brothers transferred over 19 million rubles ($620,850) under false pretexts from a fly-by-night company to an account belonging to Kobyakovskaya Fabrika Po Lozopleteniyu (Kobiakovo Willow Weaving Factory), also founded by the brothers," Investigative Committee official spokesperson Vladimir Markin said on Friday.
Navalny also faces criminal charges for the alleged embezzlement of property from the Kirovles company.
Investigators declared that Navalny, who earlier served as a voluntary adviser to the Kirov governor, plotted the embezzlement of the company's property in collusion with Vyatskaya Lesnaya Kompaniya Director Pyotr Ofitserov and Kirovles CEO Vyacheslav Opalyov.
Investigators believe that over 10,000 cubic meters of Kirovles timber products were embezzled from May to September 2009, leading to 16 million rubles ($496,820) in regional budgetary losses.
The criminal case against Navalny was closed on April 12, 2012. Later, the decision was dismissed and the investigation resumed.