Record company demands $131,000 over Blur song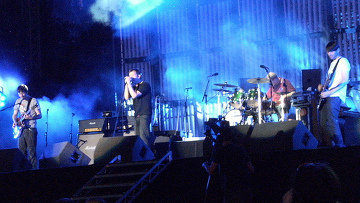 16:07 10/01/2013
MOSCOW, January 10 - RAPSI. SBA Music Publishing has filed a claim with the Moscow Commercial Court against Rostelecom and NTV to recover 4 million rubles ($131,485) in compensation for the illegal use of Blur's "Song 2" in an advertisement, the court told the Russian Legal Information Agency (RAPSI/rapsinews.com) on Wednesday.
SBA Music Publishing is part of Gala Records holding. SBA Music Publishing has asked the court to force Rostelecom to publish the text of the ruling passed by the court, citing the real holder of the rights to the song. The plaintiff also seeks 3.5 million rubles ($115,100) from Rostelecom and 500,000 rubles ($16,435) from NTV.
SBA Music Publishing told RAPSI that the company holds the rights to the group's song in the CIS.
Earlier, Rostelecom used the song in an advertisement for its zabava.ru portal. Before filing the lawsuit, SBA Music Publishing held talks with Rostelecom to settle the dispute, but the two sides failed to resolve the issue. SBA Music Publishing has also stated that the lawsuit against NTV was filed because the advertisement was also shown on that company's television channel.
Gala Records is the first privately owned music recording company in Russia, according to its website. It was established in 1988 and has also worked in musical publishing.
Rostelecom is Russia's largest telecommunication provider. The state is its main shareholder, owning 53.23% of the company's shares. Konstantin Malofeyev's Marshall Capital foundation is its largest minority shareholder, with a 10 percent stake.