Lithuania upholds conviction of Socialist for denying Soviet aggression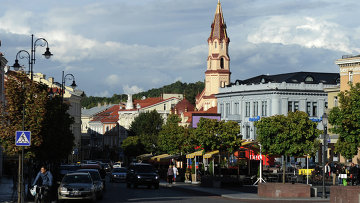 11:03 23/01/2013
VILNIUS, January 23 - RAPSI. The Lithuanian Supreme Court has upheld a lower court's conviction of Lituanian Socialist People's Front party leader Algirdas Paleckis for having denied the fact of "Soviet aggression against Lithuania and its people."
Paleckis was the first person in Lithuanian history to be charged with denying Soviet aggression, a crime stipulated in the Criminal Code.
In a radio interview, he discussed the tragic event at a TV tower in Vilnius on January 13, 1991, stating that "brothers shot at brothers." The prosecutor's office demanded to place Paleckis on one-year probation for the statement, but he was later acquitted.
A Vilnius district court later ruled that Paleckis had been acquitted groundlessly and fined him after considering the appeal submitted by the prosecutors.
Paleckis paid the fine, but appealed the ruling in the Lithuanian Supreme Court.
"Nothing has changed. I have been sentenced for denying 'Soviet aggression' against Lithuania. But I have won ideologically and politically, because the court's ruling shows that the Lithuanian authorities do not tolerate dissent and do not respect the freedom of speech. I can now file a complaint with the European Court of Human Rights in Strasbourg within six months, and I am going to do it. Truth will out, and no court can stop it," Paleckis told RIA Novosti.
In Lithuania, the ruling of the Supreme Court is final and cannot be appealed.
Lithuania declared independence from the Soviet Union on March 11, 1990. However, the Soviet Union called the move illegal and imposed an economic blockade on the country between April and late June 1990.
In January 1991, a series of unauthorized protests swept across Lithuania following which Soviet special forces entered the republic. On the night of January 13, a convoy of Soviet armored vehicles entered the center of Vilnius. The troops clashed with civilians at a local TV tower. The clash left 14 people dead and over 600 injured. One Soviet paratrooper was killed by friendly fire.