Tymoshenko knew the men behind MP's murder personally - prosecution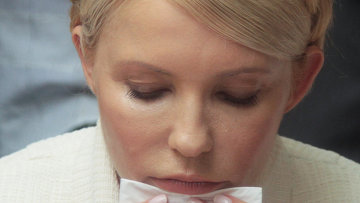 13:10 24/01/2013
KIEV, January 24 - RAPSI. The Ukrainian Prosecutor General's Office has evidence that ex-Prime Minister Yulia Tymoshenko was personally acquainted with the men who organized the murder of Ukrainian businessman and lawmaker Yevhen Shcherban, First Deputy Prosecutor General Renat Kuzmin told the Ukrainian newspaper Segodnya.
Last Friday, Prosecutor General Viktor Pshonka said that Tymoshenko and another former prime minister, Pavlo Lazarenko, were suspected of contracting Shcherbans murder in 1996. If convicted, Tymoshenko faces life in prison. She claims that she is being persecuted for political reasons; the Ukrainian authorities deny this.
"We know who she met [to contract Shcherban's murder] and when," Kuzmin said. "She was personally acquainted with [criminal boss] Milchenko, who acted as the go-between in the murder contract, and Kushnir, head of the gang of killers [who killed Shcherban]."
As for why the money was transferred only six months after the murder, which experts point to as an inconsistency, Kuzmin said that initially Lazarenko and Tymoshenko did not want to pay. "But no one is a VIP for gangsters. When Tymoshenko started to receive explicit threats, she transferred the money," the Deputy Prosecutor General said.
Shcherban, head of the Aton financial corporation, was shot dead at the Donetsk airport in November 1996. His wife and an airport employee were also killed during the hit.
In October 2011, Tymoshenko was sentenced to seven years in prison for abuse of power based on a 2009 gas contract that she signed with Russia. In late March, a second case bringing further charges against Tymoshenko was filed with Kharkiv's Kievsky District Court. The case deals with her activity at United Energy Systems. She has also been accused of misappropriating funds.