Aeroflot to provide documents to minority shareholder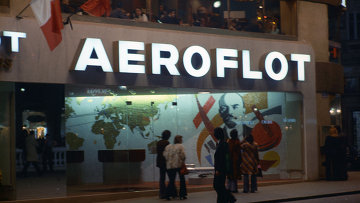 14:21 08/02/2013
MOSCOW, February 8 - RAPSI. The Ninth Commercial Court of Appeals, which heard the case of minority shareholder Igor Shilovsky vs. Aeroflot, has obliged the airline to provide him with the documents, RAPSI was told in the court.
These documents regulate the company's procedure for monitoring the procurement of goods, works and services
The court has thus amended the ruling of the lower instance court. It has partially upheld Shilovsky's appeal by obliging Aeroflot to provide him with the order, regulations and other relevant documents. It has left the remaining part of the lower court's ruling unchanged.
The shareholder sought to have the Russian state-controlled airline provide him with documents dated from January 1 to April 30, 2012, before the Aeroflot Provisions on the Procurement of Goods, Works and Services were posted on the airline's website.
The lawsuit was dismissed in full in November 2012.
Igor Shilovsky, who owns less than 1% of Aeroflot shares, requested information about the airline's procurement activity before its procurement provisions had been approved. Prior to this, he had asked the airline to provide information about its procurement commission. He wanted to find out whether or not a commission had been established and who controlled its activity. He also requested procurement documents related to Aeroflot's business activities.
He filed the lawsuit after receiving no response.
In court, the defendant said that Aeroflot had fulfilled the requirements and had provided the necessary information to the plaintiff. Information on procurements is openly accessible, the airline added. Shilovsky argued that the company had not provided him with the requested information. He noted that Federal Law No. 223 regulating companies' procurement activity came into effect in January 2012.
Federal Law No. 223 on the purchase of goods, works and services by specific legal entities sets forth procurement guidelines for state corporations, federal state unitary enterprises and companies in which the government's stake exceeds 50%. Pursuant to the law, the customer must approve and publish on their website in the first quarter of 2012 their provisions for purchasing and establishing procurements, as well as their procurement and contract conclusion and execution procedures.
According to the airline's website, the company approved the provisions in April 2012.
Aeroflot is a member of the global SkyTeam alliance and is based at Sheremetyevo Airport in Moscow. In 2011, Aeroflot transported over 14 million passengers. The Federal Agency for State Property Management is Aeroflot's main shareholder with a 51.17% stake. Around 15% of the airline is held by companies belonging to businessman Alexander Lebedev.