Russian drug lord Alexander Bely extradited from South Africa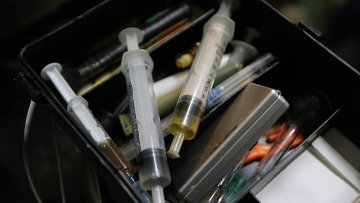 10:31 22/02/2013
MOSCOW, February 22 - RAPSI. The South African authorities have extradited drug smuggler Alexander Bely to Russia, the Russian Interior Ministry has announced on its website.
The police say that Bely organized the delivery of 224 kilograms of ephedrine to Russia from 2003 to 2005, laundering over 34.5 million rubles (around $1.2 million).
Bely, his compatriot Andrei Bykov and Bykov's spouse, cousin, adopted daughter and her husband delivered ephedrine, a banned substance in Russia, to St. Petersburg, passing it off as bath salt.
"The accomplices sold ephedrine wholesale. The bulk of the revenue from this illegal activity was legalized through bank transfers to Bely in South Africa, as well as via the acquisition of movable and immovable property in Russia," the ministry said in a statement.
In May 2005, Bykov's wife fled to South Africa, seeking to avoid criminal prosecution. The group then began delivering ephedrine under the guise of detergent.
In 2008, three accomplices of Bykov and Bely were found guilty and sentenced to long prison terms. Andrei Bykov and his wife Yevgenia were extradited in 2009 and received 14- and 18-year sentences, respectively.
Interior Ministry spokesperson Marina Gridneva said that Bely delivered at least 97 batches of the drug to Russia. In 2006, he was put on the federal and then on the international wanted list, and was subsequently detained in South Africa.
"From 2007 to 2012, the South African authorities took three decisions to extradite Bely, but were unable to act on them for various reasons," Gridneva said.