Only court can decide to release Tymoshenko – Ukrainian president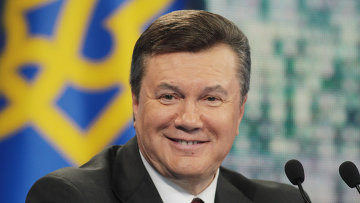 18:20 01/03/2013
KIEV, March 1 – RAPSI, Alyona Meita. Ukrainian President Viktor Yanukovych does not like the fact that former Prime Minister Yulia Tymoshenko is in prison, but only the court can decide to release her, he said.
"I do not have the right to put anyone in jail, or to release anyone," the president said at a news conference on Friday, noting that he "of course does not like " that Tymoshenko is in prison.
As for what he would do if he were in her place, she "should have thought of that beforehand," Yanukovych said, underscoring that her motives were unclear in signing gas contracts with Russia in 2009 that were detrimental to the Ukrainian economy. Tymoshenko, who served as the prime minister in 2009, was convicted of abuse of power for signing gas supply contracts with Russia. Ukraine has claimed that the contracts were disadvantageous for the country.
Tymoshenko was later sentenced to seven years in prison. Many experts in the West believe that the conviction of opposition members has hindered Ukraine's integration into the EU.
Progress in resolving selective justice cases is a condition for Ukraine to sign an association agreement with the EU in November.