Moscow Commercial Court bans gray market imports of Guinness to Russia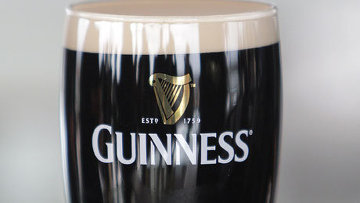 18:29 14/03/2013
MOSCOW, March 14 - RAPSI, Fyodor Shatsillo. The Moscow Commercial Court has banned Aqualife, a gray market importer of Guinness, from importing and distributing the beer in Russia, the court told RAPSI.
The court thus satisfied a suit by Diadgeo Ireland, producer and rights holder of the brand. The court also imposed 50,000-rubles in damages against Aqualife, to be paid to the Irish company.
Gray market imports are goods imported from another country without the official manufacturer's consent.
Conversely, the Moscow Commercial Court has scheduled a hearing for April 12 to hear an Aqualife lawsuit against alcohol manufacturer Diageo Ireland for the early termination of Guinness' trademark protection in Russia.
The soft drink company Aqualife, which was a Guinness gray market importer, claimed that Diageo was not using the brand in Russia.
An Aqualife representative said the company was very interested in the brand during the preliminary hearing. However, Diageo Ireland's lawyer objected, insisting that the company was simply using the brand.
The lawyer filed a motion to schedule the primary hearing in one month, as Diageo requires time to collect the necessary documents and to deliver them to Russia as a foreign company. The court then scheduled the hearing for April, adding that it could be postponed further.
The Moscow Commercial Court will hear another lawsuit filed by Aqualife against Heineken Ceska Republica to terminate the Krusovice trademark's legal protection.
According to the Register of the Federal Service for Intellectual Property (Rospatent), the Krusovice brand was registered in Russia in 2004 as the property of Heineken Ceska Republica in relation to just one commodity - beer - and the registration expiry date is September 2013.
Diageo was established in 1997, following the merger of Guinness and GrandMet. The London-headquartered company owns a number of brands, including Smirnoff, Johnnie Walker, Guinness, Baileys, J&B, Captain Morgan, Cuervo, Tanqueray, and Crown Royal, as well as Beaulieu Vineyard and Sterling Vineyards wines. Diageo sells its products in 180 countries. Its shares are listed on the New York and London stock exchanges.
Guinness is a beer brand owned by Diageo, initially associated with Irelands Arthur Guinness Son & Co, established in 1759 by brewer Arthur Guinness.
It is the most widely known and consumed Irish beer.
Guinness is produced and imported to Russia by Heineken under a license agreement.
Heineken is one of the world's largest brewing companies. It operates in 71 countries, including Russia, where it began business in February 2002 after buying its first brewery in St. Petersburg. Heineken now owns eight breweries in Russia. The company's portfolio contains roughly 30 brands, including the popular international trademarks Heineken, Amstel Premium Pilsener, Zlaty Bazant, Guinness, and Desperados.