Moscow City Court declines Pussy Riot conviction appeal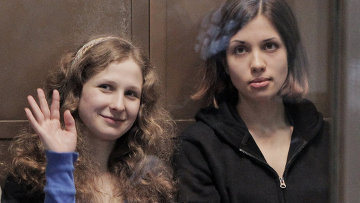 17:29 20/03/2013
MOSCOW, Mar 20 - RAPSI. The Moscow City Court has declined the supervisory appeals of Pussy Riot members Maria Alyokhina and Nadezhda Tolokonnikova, the court told RAPSI Wednesday.
In late February 2012, five young women wearing brightly colored balaclavas staged a "punk-style" prayer in Moscow's Christ the Savior Cathedral in central Moscow. An edited video of their performance was posted on the Internet and caused a public uproar.
Tolokonnikova, Alyokhina and fellow band member Yekaterina Samutsevich were arrested shortly thereafter. On August 17, 2012, the Khamovniki District Court sentenced them to two years in a prison settlement for hooliganism. On October 10, 2012, the Moscow City Court converted Samutsevich's sentence to a suspended sentence, and released her immediately based on her new attorneys' argument that she was seized by security guards prior to reaching the altar and did not actually take part in the punk prayer.
Alyokhina's and Tolokonnikova's sentences were upheld.
A supervisory appeal under Russian law allows the user to challenge his or her conviction, even after it has become final for all other purposes. It can be filed with either a chairperson of the court or a prosecutor, the Supreme Court chair, or the Prosecutor General of the Russian Federation.