Hearing of former shareholder's claim against Transaero to resume on May 13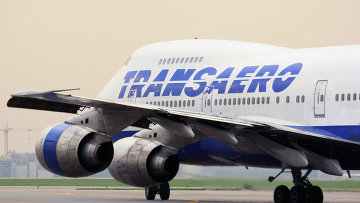 17:23 01/04/2013
MOSCOW, April 1 - RAPSI. The Moscow Commercial Court will continue hearing a former shareholder's 1.619 billion ruble ($52 million) claim against Transaero on May 13, the court told RAPSI on Monday.
The Moscow Regional Federal Commercial Court sent Eskerkhan Mutalibov's lawsuit against the airline back for review on Feb. 4, thus annulling the rulings of two lower courts to reject the claim.
Two share registrars have been named as co-defendants in the lawsuit - the Moscow-based Reestr company, which previously held Transaero's shares, and the Computershare Registrar company, which the airline is now using.
According to the Transaero shareholders list, Mutalibov held 5% of the airline's shares in May 2003. However, he was not on the list compiled for the next annual general meeting in May 2004. Mutalibov reportedly wrote in his claim that he neither sold his shares, nor signed any sale documents. He added that he also never received money for his stake in the company.
Meanwhile, both registrars said Mutalibov was never registered as a shareholder. There are no documents to prove the plaintiff's statement, Transaero said.
Transaero was established in 1990, has a fleet of 76 aircraft, and operates flights to over 160 destinations in Russia, Europe, Asia, the Americas, and Africa.
Transaero's stock has been traded on MICEX since March 29, 2011. Alexander and Olga Pleshakov directly control 43% of Transaeros shares. Head of the Interstate Aviation Committee Tatyana Anodina holds a 3% stake, Lev Khasis owns 6.48% and Transaero Finance owns 4.23% of the company. According to Russian Accounting Standards, Transaero's net profit more than tripled in 2011 to 1.83 billion rubles ($57.1 million).