Pussy Riot's Alyokhina against prison transfer - lawyer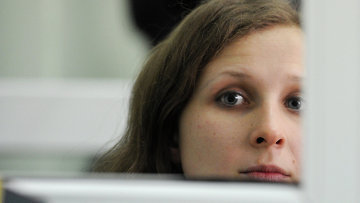 15:47 03/04/2013
MOSCOW, April 3 - RAPSI. Pussy Riot member Maria Alyokhina does not want to be transferred from the Berezniki prison in the Perm Territory to another penal colony because she feels safe in her present location, her lawyer Irina Khrunova told RAPSI on Tuesday.
Alyokhina received a prison sentence for hooliganism in 2012.
According to earlier reports, she and her lawyers complained the she is presently serving her prison term together with repeat offenders.
"Alyokhina does not want to be transferred to another prison because she has a job and she can study in the Berezniki prison," her lawyer said. "She plans to resume her job as sewing instructor on Tuesday. She will also train other convicts."
In late February 2012, five young women wearing brightly colored balaclavas staged a "punk-style" prayer in Moscow's Christ the Savior Cathedral. An edited video of their performance was posted on the Internet and caused a public outcry.
In August 2012, the Khamovnichesky District Court sentenced Pussy Riot members Nadezhda Tolokonnikova, Alyokhina and Yekaterina Samutsevich to two years in a prison settlement for hooliganism.
In October 2012, the Moscow City Court changed Samutsevich's verdict to a suspended sentence and released her immediately based on her new attorneys' argument that she was seized by security guards prior to reaching the altar and she therefore did not actually take part in the punk prayer performance.
Alyokhina's and Tolokonnikova's sentences were upheld.