US extradition violates rights of schizophrenic terror suspect – ECHR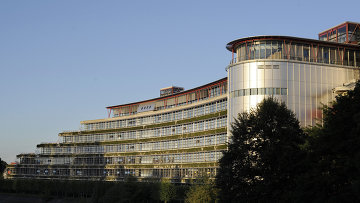 15:32 16/04/2013
MOSCOW, April 16 – RAPSI, Ingrid Burke. The European Court of Human Rights (ECHR) held Tuesday that the UK would be violating the rights of a schizophrenic man charged with conspiring to establish a US-based jihad training camp by extraditing him to the US.
Applicant Haroon Aswat was indicted in the US in 2005 on charges of conspiracy to establish a jihad training camp in the state of Oregon. He was arrested in the UK the following year based on a request from the US.
Notably, Aswat suffers from paranoid schizophrenia characterized by hallucinations and delusions. He is thus currently detained in a mental health facility. The judgment cited the opinions of two forensic psychiatrists, both of which noted that Aswat cannot fully comprehend his illness, which would pose risks if he stops taking his medication. One psychiatrist asserted that if he stops taking his medication, Aswat may cease eating and drinking properly. The other noted that Aswat has remained well-behaved in his present facility, due in part to engaging in occupational and vocational activities available to patients, and regularly attending the Mosque.
After his arrest, Aswat fought extradition from a human rights vantage point. He claimed that in a US maximum security prison, he would be subject to solitary confinement and other special measures. The England and Wales High Court of Justice held that solitary confinement in and of itself did not violate Article 3 of the European Convention on Human Rights (Convention), which prohibits inhuman and degrading treatment.
In 2007, the House of Lords refused to hear the case on appeal.
He then turned to the ECHR, alleging a violation of Article 3 of the Convention.
The court considered various submissions, including expert opinions on the state of Aswat's mental health and details of the America's legal and prison systems. With reference to the latter, the court noted that he would have various opportunities to defend his lack of mental capacity in the US courts, and would be monitored closely while in detention for changes to his mental state.
Aswat argued before the court that he had a history of refusing food and water in high-stress situations, such as transfers to new facilities. He further argued that the specific US maximum security facility at issue hosts mentally ill detainees and has a history of force-feeding prisoners who refuse to eat.
The UK pointed out that if extradited, Aswat's rights would be protected by the US criminal justice system. It further noted that while Aswat's schizophrenia diagnosis would not necessarily preclude him from being held in a maximum security facility, most schizophrenic prisoners are treated in other facilities.
The ECHR noted that it has previously held that the detention of an individual with medical problems can give rise to specific issues under Article 3, which states: "No one shall be subjected to torture or to inhuman or degrading treatment or punishment."
In order to determine whether that logic should apply in the present case, the court considered Aswat's medical condition, the adequacy of medical assistance in the prospective detention facility, and the reasonableness of his detention.
The court began by noting the seriousness of his condition, reiterating the likelihood that his own health may suffer gravely due to his lack of comprehension of his own affliction. In light of information provided by the US Department of Justice, the judgment notes that even in the harshest American prisons, Aswat would have access to medical care.
Still, if extradited a psychologically vulnerable man would be moved to an unfamiliar country with little assurance of protection from the harshest prison conditions.
The judgment concludes: "in light of the current medical evidence, the Court finds that there is a real risk that the applicant's extradition to a different country and to a different, and potentially more hostile, prison environment would result in a significant deterioration in his mental and physical health and that such a deterioration would be capable of reaching the Article 3 threshold."
Thus, solely on the basis of Aswat's mental health, it would be a violation of Article 3 to enforce the extradition order.