Defense team seeks alternative opinion on Tolokonnikova's psych assessment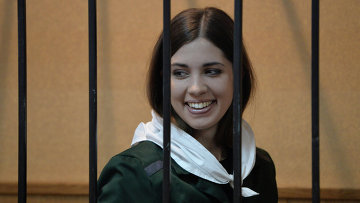 13:12 26/04/2013
ZUBOVA POLYANA, April 26 (RAPSI) – A court in the central Russian region of Mordovia has approved a request filed by jailed Pussy Riot member Nadezhda Tolokonnikova's defense team to allow a psychologist to provide an alternative opinion on the prison's psychological assessment of Tolokonnikova, RAPSI learned in court Friday.
Tolokonnikova's attorney Irina Khrunova requested that psychologist Vladimir Rubashkin be allowed to analyze the prison's assessment, claiming that the defense team needs a professional to study the documents. "Her psychological assessment was not written properly. It does not comply with the law. However, it uses professional language, and therefore we need a professional to be able to analyze it," she said.
The court has begun considering Tolokonnikova's parole application on Friday.
In February 2012, five young women wearing brightly colored balaclavas staged a "punk-style" prayer in the Christ the Savior Cathedral. An edited video of their performance was posted on the Internet and caused a public outcry.
In August 2012, the Khamovnichesky District Court sentenced Tolokonnikova and two other Pussy Riot members – Maria Alyokhina and Yekaterina Samutsevich - to two years in a prison settlement for hooliganism.
In October 2012, the Moscow City Court changed Samutsevich's verdict to a suspended sentence and released her immediately based on her new attorneys' argument that she was seized by security guards prior to reaching the altar.
Alyokhina's and Tolokonnikova's sentences were upheld.