Pussy Riot's Tolokonnikova denied parole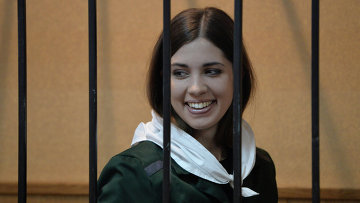 19:58 26/04/2013
ZUBOVA POLYANA, April 26 (RAPSI) – Pussy Riot member Nadezhda Tolokonnikova who is serving a two-year sentence for a "punk prayer" to remain in prison as her bid for parole was rejected on Friday, RAPSI correspondent reports from the courtroom.
While delivering the ruling, the judge of the Zubovo-Polyansky District Court in Mordovia said that the assessment of Tolokonnikova's behavior in prison was taken into account.
It was reported earlier that Tolokonnikova, who is serving her sentence in the Volga area Republic of Mordovia violated certain prison regulations and had no regrets.
In February 2012, five young women wearing brightly colored balaclavas staged a "punk-style" prayer in the Christ the Savior Cathedral in central Moscow. An edited video of their performance was posted on the Internet and caused a public outcry.
In August 2012, the Khamovnichesky District Court sentenced Tolokonnikova and two other Pussy Riot members – Maria Alyokhina and Yekaterina Samutsevich - to two years in a prison settlement for hooliganism.
In October 2012, the Moscow City Court changed Samutsevich's verdict to a suspended sentence and released her immediately based on her new attorneys' argument that she was seized by security guards prior to reaching the altar.
Alyokhina's and Tolokonnikova's sentences were upheld.
In accordance with Russian legislation, convicts can apply for parole after serving half of their sentence. Tolokonnikova, whose sentence includes her detention before and during the trial, was entitled to apply for parole in March.
In November 2012, Tolokonnikova asked the court to postpone her sentence until her daughter comes of age. Pursuant to Russian law, a child is considered an adult at 18. Her daughter was four years old by that time.