Pussy Riot's Alyokhina to hunger strike if not allowed in court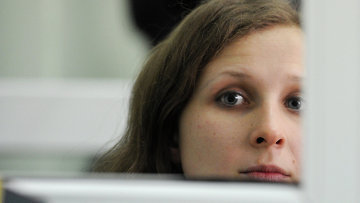 17:50 16/05/2013
MOSCOW, May 16 (RAPSI) – Sentenced Pussy Riot member Maria Alyokhina is prepared to go on a hunger strike if she is not allowed to present in person at a hearing appealing for her release on parole, her associate Nadezhda Tolokonnikova said Thursday on Facebook.
The hearing is set for May 22 at the Berezniki City Court in the Perm Territory, which is trying to deprive Alyokhina of her right to present, the post reads. An application against the efforts to keep Alyokhina in prison that day has been filed with the judicial and penitentiary authorities.
In February 2012, five young women wearing brightly colored balaclavas staged a "punk-style" prayer in the Christ the Savior Cathedral in central Moscow. An edited video of their performance was posted on the Internet and caused a public outcry.
In August 2012, the Khamovnichesky District Court in Moscow sentenced Alyokhina and two other Pussy Riot members - Tolokonnikova and Yekaterina Samutsevich - to two years in a prison settlement for hooliganism.
In October 2012, the Moscow City Court changed Samutsevich's verdict to a suspended sentence and released her immediately based on her new attorneys' argument that she was seized by security guards prior to reaching the altar.
Alyokhina's and Tolokonnikova's sentences were upheld.
Tolokonnikova appealed to a Mordovian court in April to release her on parole, but the bid was rejected. The court cited her behavioral record in prison, which has reportedly been less than exemplary.