Makhachkala Mayor may lose office over murder plot accusations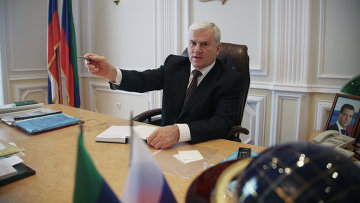 10:58 14/06/2013
MOSCOW, June 14 (RAPSI) - Investigators have asked the court to strip Makhachkala Mayor Said Amirov of his official position as he faces accusations of having ordered the murder of investigator Arsen Gadzhibekov, lawyer Mark Kruter told RAPSI on Friday.
"The Basmanny District Court will hear the motion today," he said. A court spokesman said they will discuss temporarily suspending Amirov from his post.
Amirov has been the mayor of Makhachkala, the capital of the southern Russian region of Dagestan, since 1998. He was arrested on June 1 and transported to Moscow, where he was taken into custody on suspicion of having ordered the murder of Gadzhibekov. Amirov denies the charges.
On June 4, charges were officially brought against him. The investigators believe that Amirov ordered the assassination, which was organized by Magomed Abdulgalimov, assistant city prosecutor of Kizlyar with accomplices,Deputy Mayor of Kaspiysk Yusup Dzhaparov and Kirovsky District police investigator Magomed Akhmedov. The murder was committed by Magomed Kadiyev, the Investigative Committee claims.
The authorities have arrested 11 people in connection with this case and do not rule out that more suspects may have been involved. Amirov appealed the Basmanny Court's decision to detain him.
On Friday morning, Penitentiary Service spokesperson Kristina Belousova told RIA Novosti that Amirov tried to commit suicide in his cell in the Moscow remand center. "His condition is now assessed as satisfactory. He is being kept in hospital and is being monitored by physicians," she said.
Amirov's defense lawyers said they had no information about his suicide attempt. Amirov, a long-serving member of the ruling United Russia party, won the title of Russia's best mayor in a contest in late April.
Gadzhibekov, chief of the investigation department in Makhachkala's Sovetsky District, was shot dead near his home as he was getting out of his car. He had worked on a number of crimes, including the 2010 terror attack in Kizlyar that killed 10 and injured 270.