Polish prosecutor and experts to examine presidential plane wreck again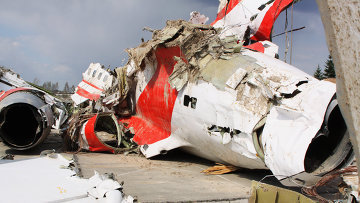 16:23 19/07/2013
WARSAW, July 19 (RAPSI) - A Polish prosecutor will travel with four experts to Russia next week in order to conduct an additional investigation of deceased President Lech Kaczynski's plane that crashed near Smolensk, Russia in 2010.
"Starting Monday, July 22, a prosecutor and four experts in physical and chemical evaluation will spend two weeks in Smolensk" - says the official spokesman for Poland's Military Prosecutor's Office, captain Martzin Maksyan
He says the Poland's delegation visit was approved y Russian authorities.
The experts will inspect the crashed airplane's seats and gather material for additional lab studies in Poland.
A Polish Tu-154 plane carrying former President Lech Kaczynski, his wife, and a large group of high-ranking officials crashed near Smolensk due to thick fog on April 10, 2010, killing 96 people. The Moscow-based Interstate Aviation Committee issued a final report in late July 2011, placing the blame entirely on the Polish crew. Meanwhile, Poland, which carried out a separate investigation, partially blamed the Russian air traffic controllers for the tragedy.