Suspect in 2012 Moscow Riot case released from detention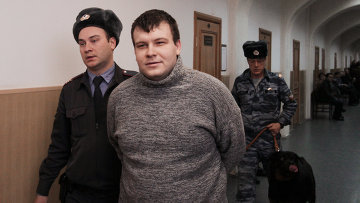 14:39 02/08/2013
MOSCOW, August 2 (RAPSI) – The Moscow City Court ruled Friday to release Nikolai Kavkazsky, who has been charged with participation in mass protests in central Moscow in May 2012, and placed him under house arrest, the lawyer Vadim Klyuvgant told RAPSI.
The mass protests took place at a Moscow protest rally on the eve of Vladimir Putin's inauguration for a third presidential term in May 2012. The rally ended in clashes between protesters and the police.
Over 400 people were arrested and scores were injured when protesters briefly broke through police lines.
Russia's Investigative Committee opened a probe against nearly 30 people, including opposition activists Sergei Udaltsov and Leonid Razvozzhayev. The former was charged with organizing riots involving violence, arson, the destruction of property, the use of fire arms and explosives, lawyer Dmitry Agranovsky told RAPSI in June.
Kavkazsky is one of the suspects who allegedly took part in riots and who is going to stand trial along with 11 other suspects. The case is being heard at the Zamoskvoretsky district court of Moscow.
Kavkazsky spent almost a year in detention as he was detained in July 2012. The office of Human Rights Commissioner Vladimir Lukin filed a complaint against his arrest which was rejected by court. The ruling was overturned after the office reached out to the Supreme Court.