ECHR gives top priority to Moscow rioters' complaint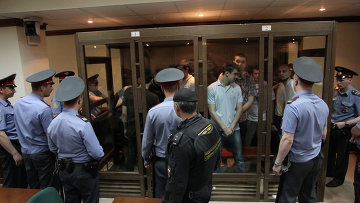 12:12 08/08/2013
MOSCOW, August 8 (RAPSI) - The European Court of Human Rights (ECHR) has given top priority to the appeal against the lengthy term of detention and inhumane confinement conditions filed by Vladimir Akimenkov and Yaroslav Belousov, two persons involved in the Moscow riots case, their attorney Dmitry Agranovsky told RAPSI on Thursday.
This procedure implies that the complaint will be considered as soon as possible.
In July, the ECHR adopted a similar decision on the complaint of Kirov-born citizen Leonid Kovyazin, who has been also accused of participating in the Bolotnaya Square riots in Moscow last year.
The mass protests took place at a Moscow protest rally on the eve of Vladimir Putin's inauguration for a third presidential term in May 2012. The rally ended in clashes between protesters and the police.
Over 400 people were arrested and scores were injured when protesters briefly broke through police lines.
The criminal case was initiated after the "Anatomy of Protest 2" documentary film was shown on the NTV broadcasting network. The film claimed that the opposition was organizing a coup using funds from abroad and showed Left Front movement coordinator Udaltsov and his companions allegedly talking with Georgian politician Givi Targamadze, who at the time headed Georgia's Parliamentary Defense and Security Committee, and is said to have been involved in planning the "color" revolutions in Georgia and Ukraine, as well as the mass riots in Belarus.