Bill proposing stripping gays of parental rights submitted to Duma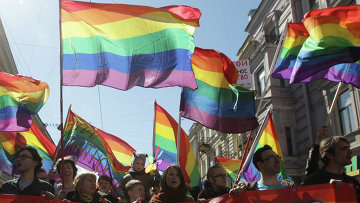 12:58 05/09/2013
MOSCOW, September 5 (RAPSI) - Alexei Zhuravlyov, a member of Russia's ruling United Russia party, has submitted to the State Duma a bill that proposes to include homosexual orientation as a cause for the deprivation of parental rights, RIA Novosti reported Thursday.
About 5-7% of Russian citizens are homosexuals, and at least one third of them have children, the author of the initiative said with reference to expert findings.
On June 30, Russian President Vladimir Putin signed into law a bill banning the promotion of homosexuality toward minors.
According to the law, fines for the promotion of same-sex relationships among children range from 4,000 to 5,000 rubles ($122-$153) for individuals, 40,000 to 50,000 rubles ($1,223-1,530) for officials, and 800,000 to 1 million rubles ($24,460-$30,570) for legal entities.