Appeal against Navalny brothers' Yves Rocher fraud case to be heard on Oct.9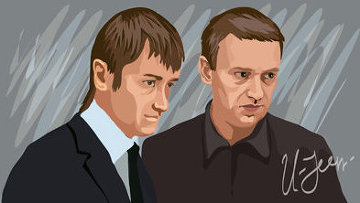 13:02 30/09/2013
MOSCOW, September 30 (RAPSI, Saria Kiut) - The Moscow City Court will consider on October 9 an appeal against an order on institution of criminal proceedings against opposition blogger Alexei Navalny and his brother Oleg, the court's press office told RAPSI Monday.
The Navalny brothers stand accused of having embezzled 55 million rubles ($1.7 million) and illegally laundering money obtained through the transport of Yves Rocher Vostok goods.
In December 2012, the Investigative Committee described the charges pending against the Navalny brothers as follows: "Oleg and Alexei Navalny embezzled over 55 million rubles from a trade company... In order to legalize the illegally obtained funds, the Navalny brothers transferred over 19 million rubles ($587,415) under false pretexts from a fly-by-night company to an account belonging to the Kobyakovo Willow Weaving Factory, which was also founded by the brothers."
Over time, information surfaced that the trade company is being referred to the Russian operation of the French cosmetic giant Yves Rocher.
Investigators found that Alexei Navalny is registered as the founder and the general director of Glavnoye Podpisnoye Agentstvo (Main Subscription Agency), but he has not had anything to do with the company's activity.
While holding a senior position with Russia's Postal Service, Oleg Navalny is accused of having "manipulated" Yves Rocher into entering into a contractual agreement for cargo mail transportation with the Main Subscription Agency.
The enterprise transported mail from August 2008 until May 2011. While the real cost of the transportation amounted to no more than 31 million rubles ($958,414), over 55 million rubles were transferred to the agency's account for transportation services allegedly rendered.
According to Navalnys lawyer Olga Mikhailova, none of the documents submitted by the investigators prove her clients' guilt. This is a civil dispute between the companies, she added.
Alexei Navalny was found guilty of timber embezzlement last in July stemming from a stint spent serving as an advisor to Kirov governor Nikita Belykh between May and September 2009. According to investigators, Navalny organized the theft of over 10,000 cubic meters of timber during that period in collusion with Vyatka Timber Company Director Pyotr Ofitserov and Kirovles CEO Vyacheslav Opalyov.
He was sentenced to five years in a penal colony, and his co-accused Pyotr Ofitserov received a four-year sentence. The two were held liable to pay a one million ruble fine between them.
An appeal against the verdict filed by Navalny and Ofitserov will be also considered on October 9.