Prosecutors seek mandatory psychiatric treatment for 2012 Moscow Riots suspect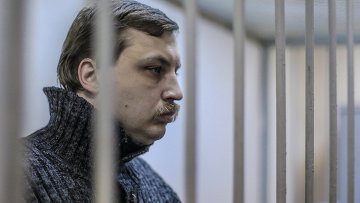 13:38 02/10/2013
MOSCOW, October 2 (RAPSI) – A federal prosecutor demanded Tuesday that Mikhail Kosenko, a defendant in the 2012 Moscow Riots case, should be subjected to compulsory psychiatric treatment, RAPSI reports from the Zamoskvoretsky District Court.
The prosecutor based this request on the assertion that the defendant suffers from a psychological disorder.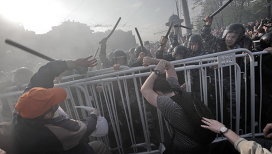 © RIA Novosti, Andrei Stenin
"March of Millions" May 6, 2012
The prosecutor stated that he had no doubts of Kosenko's guilt. According to the prosecution's statement Kosenko "succumbed to the call to riot and took part in the mass public disorder that followed," which resulted him in inflicting minor damage to a police officer's health.
Kosenko has been kept in pre-trial detention since the summer of 2012, and his case was separated from the other rioters.
The mass protests occurred on the eve of Vladimir Putin's inauguration for a third presidential term in May 2012. The rally culminated in clashes between protesters and the police.
Over 400 people were arrested and scores were injured when protesters briefly broke through police lines.