County prosecutors go after Boston Bombing suspect in MIT officer's death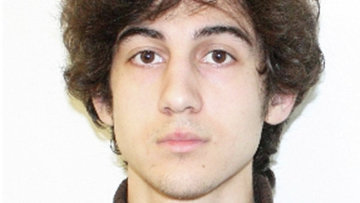 19:49 07/10/2013
MOSCOW, October 7 (RAPSI) - Prosecutors from the US state of Massachusetts' Middlesex County received a warrant that would enable them to arraign Boston Marathon bombing suspect Dzhokhar Tsarnaev for the murder of MIT police officer Sean Collier, The Boston Globe reported Monday.
According to the report, prosecutors won by default a hearing Monday morning that was attended by neither Tsarnaev nor his legal team. This is a procedural step that would ensure that Tsarnaev will ultimately stand trial in state court, though likely not before the completion of his trial at the federal level, according to the Globe.
At about 2:49pm on April 15, two explosions occurred near the finish line of the Boston Marathon. IEDs devised from pressure cookers, low explosive powder, shrapnel, adhesive, and other materials were hidden in backpacks that were then placed near metal barricades in areas packed with hundreds of spectators.
According to a related indictment, "Each explosion killed at least one person, maimed, burned and wounded scores of others, and damaged public and private property, including the streets, sidewalk, barriers, and property owned by people and businesses in the locations where the explosions occurred."
The following four days were consumed by a dramatic and at times extremely violent manhunt for the suspects, who were identified by name on April 19 as Dzhokhar (19) and his brother Tamerlan Tsarnaev (26). The manhunt entailed the presence of thousands of law enforcement personnel from local, state, and federal agencies, and resulted in a veritable lockdown through parts of the greater Boston area.
As explained in a US Department of Justice (DOJ) press release released alongside Tsarnaev's June 27 federal grand jury indictment, "The indictment alleges that hours later on April 18, Dzhokhar Tsarnaev and his brother, armed with five IEDs, a Ruger P95 semiautomatic handgun, ammunition, a machete, and a hunting knife, drove their Honda Civic to the MIT campus, where they shot and killed MIT Police Officer Sean Collier and attempted to steal his service weapon."
Tamerlan was killed during a police shootout, and Dzhokhar was arrested on the evening of April 19 after having been discovered hiding in a dry-docked boat in the Boston suburb of Watertown.
He was then charged in a criminal complaint dated April 21 with the use of a weapon of mass destruction and malicious destruction of property resulting in death.
Then on June 27, a federal grand jury returned a 30-count indictment against Dhzokhar. The charges include the use of a weapon of mass destruction resulting in death and conspiracy and the bombing of a place of public use resulting in death and conspiracy among others, as well as the use of a firearm to intentionally kill Collier.
According to an accompanying FBI press release, seventeen of these charges carry sentences of up to life imprisonment or the death penalty, and the rest carry sentences of life imprisonment or imprisonment for a fixed period.
At an arraignment hearing on July 10, Dzhokhar pleaded not guilty to all charges pending against him.