RAPSI broadcasts Filin's acid attack testimony live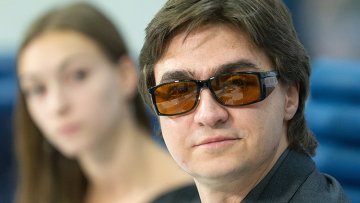 14:25 05/11/2013
MOSCOW, November 5 (RAPSI) - RAPSI is hosting a live text broadcast as Bolshoi Ballet Artistic Director Sergei Filin appears in a Moscow court to testify about the acid attack that nearly blinded him earlier this year.
Broadcast
19:32 Well, that's all for today. But stay tuned for all the latest-breaking Bolshoi legal gossip. Thanks for tuning in! See you next time!
19:30 Oy. Long, fascinating day - huh kids?
19:28 In general, the judge will allow Filin to excuse himself from participating in the trial. The next hearing will be held tomorrow at 14:00 Moscow time, when the prosecutors are expected to present their evidence.
19:27 The judge asks what punishment Filin would like to see the defendants face. He answers, "at the discretion of the court." The judge asks whether he would like to attend the upcoming hearings. He says he will not, and can not, in light of his upcoming operation.
19:23 The judge asks Filin to elaborate on his moral suffering. "After all that happened, my loved ones have suffered tremendously...." he trails off, and suddenly turns on his heels and ducks away.... break time?
19:21 He adds that in his view, the incident stemmed solely from his professional activities.
19:20 Asked about the motive underlying the attack, Filin speculates: "Perhaps jealousy."
19:18 He adds that he has a wonderful family, and he looked forward to returning home to them every night, rather than toiling away at some bar or cafe.
19:17 Filin again describes that harrowing evening - rising up after he had fallen after the attack. He adds that he knew about his plans for the evening. This all seems perhaps to be harboring a double meaning.
19:09 Now the judge has a few questions. For starters, he tells the judge that he's never heard of Lipatov or Zarutsky.
19:05 Dmitrichenko has no more questions. Wow.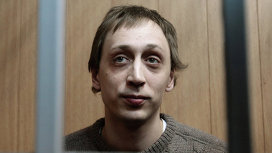 © RIA Novosti, Maxim Blinov
Pavel Dmitrichenko. Our days
19:03
Dmitrichenko continues to ask very specific questions about incidents with specific artists.
19:02 Dmitrichenko admits that he was at fault in that situation. Her name is Svetlana, we discover. And eventually he and Svetlana came to be buddies.
19:01 He admits that there was a girl that made him shout.
19:00 Filin responds that he's 43. He's not a sage; he's emotional!
18:59 Dmitrichenko now brings up another incident, where a woman burst into tears under Filin's pressure. Her name has not been disclosed.
18:58 Filin claims that he did nothing wrong. He adds that Veronika is a wonderful person, and that over time they were able to talk things out.
18:57 Filin says Dmitrichenko swiftly (like Batman would) used this bizarre situation with the administrator to advance in his own interests, against Filin.
18:55 Filin puts on a lady voice to impersonate Veronika while recounting the story. The (courtroom) audience loves him; whispers of "Artist!" can be heard.
18:54 He explains that he was left with no choice but to inquire with the General Director about the Tsiskaridze incident.
18:52 He continues to detail the encounter with Veronika Sanadze, an administrator at the Bolshoi.
18:49 Nikolai Tsiskaridze voluntarily replaced himself with another artist during rehearsals for Giselle, he explains, adding that he had asked this artist to leave he should not have been there. He asked Veronika for an explanation, and she said that she had not been informed of the change.
18:47 Filin stands up to answer the question: "It was yet another provocation, then a collective letter was written to the theater in her defense."
18:45 Dmitrichenko asks Filin to recall a conversation he had with Veronika , after which she fled from the office crying, and then quit. Filin asks what this has to do with the case, but the judge asks him to clarify.
18:42 Notably, Dmitrichenko answers the questions of the accused without turning his head to face them.
18:38 Dmitrichenko asks if Filin was displeased with certain artists being chosen for specific roles, and asks how he manifested his displeasure with certain artists. The judge believes he has already satisfactorily answered the question.
18:32 Dmitrichenko apologizes, but adds that he didn't invent these claims himself, referring to the written material in the case.
18:29 "So what?" Filin's representative charges, Filin adds again that he was only intimate with his wife.
18:27 And here we go again. According to Dmitrichenko, from the investigation materials it is evident that there were intimate relations with certain soloists.
18:25 Dmitrichenko wants to introduce written questions, but the judge doesn't understand why he can't just ask the questions himself.
18:21 Filin rushed out for some eye drops or something along those lines, but quickly returned.
18:20 Regarding his civil suit, Filin says that the court will sort out who his guilty; his business was merely stating a claim.
18:18 The line of questioning: lawyer - "Do you know Andrei Nikolaevich Lipatov?" Filin - "No." Lawyer: "Has he expressed some sort of threat? Maybe deployed a group against you?" Filin - "How could I know this if I don't know him? No."
18:15 And we're back. Dmitrichenko wants to ask questions, but Lipatov's lawyer asks for a word and no one opposed.
18:08 Back to his health: Filin has endured 23 operations. On November 11 he will return to Germany for his 24th. The judge has called another three minute break.
18:06 He notes that while driving one morning, one of his tires burst, and then another one. It turns out they had been slashed, he says. He was then apparently asked to hire guards.
18:02 When asked whether it would be possible to look up his address on the Internet, Filin tells his representative, "No, because I live at my parents' aparetment, but I'm registered at a different address."
18:00 Filin is asked to share information on the time prior to the attack. He answers that there was some tension - his email account was hacked and he even consulted with the director. No measures were taken; however, he was told to calm down.
17:57 But back to the alleged frivolity with which Dmitrichenko spoke of his fellow artists, Filin tells us he used such unsavory descriptions as the declaration that one artist's success could be attributed to her skills at "a**licking." Still other artists' successes were attributed to closeness with Filin, Filin's sympathy, etc.
17:55 Filin says that Dmitrichenko spoke frivolously of the success of other artists. He is then asked to provide further detail about this supposed hacker attack.
17:50 Filin recalls once having received continuous phone calls for two days in a row, and an attack that was waged against his social network page.
17:48 And one time, Dmitrichenko said that Vorontsova would be a prima ballerina, Filin recalls: "He said that he had decided the issue with Kuznetsova, and I did not understand whether this was a threat, or what he meant exactly."
17:45 According to Filin, Dmitrichenko had told him about corruption in the theater, but he hadn't heard this information from anyone else.
17:41 When asked whether he had ever been threatened by Dmitrichenko, Filin responds that "Pavel always tried to threaten me indirectly."
17:39 Prosecutor asks Filin if the attacker said anything during the incident. "Regards," says Filin
17:38 "In cocnclusion, i would like to say that this attack stems directly from the lack of any compromising evidence against me," Filin adds
17:34 Filin needs a break. The judge is giving us three minutes.
17:33 Filin: "It is a horror about which I no longer want to speak. But I want to say, that I forgive no one for what happened to me. No one."
17:31 He describes his epic struggle trying to get to the door. He fell hard, dropped his phone.
17:30 He describes a scene of crawling through the clean white snow, crying out in pain.
17:29 When the gate didn't open, he sensed something was wrong. He turned around and saw that only the man's eyes were visible, and immediately felt that something was wrong. After that, the liquid. He immediately lost his vision, and describes a pain unlike anything he's ever felt.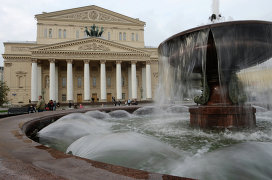 Большой театр
17:28
He notes that as he approached the gate he heard a sound coming from behind him. It was a man, and not one dressed like a Moscow resident. He was fussing with something. Filin thought he'd wanted to relieve himself.
17:26 "It was a lovely, warm evening. Snow was falling," Filin tells us.
17:25 Now we're onto the night of the attack.
17:21 He is addressing rumors of infidelity. In his view, rumors of a dancer's love connections are deeply offensive. Addressing the rumor that there may have been an affair with Olga Smirnova, he notes that she's a great star - but that doesn't mean they were intimate. He notes that his wife - whom he has loved for many years - did not enjoy great stardom.
17:18 And now to the always interesting topic of intimate relationships. Filin says, "I love my wife, I've loved her for many years. There is a person who is my friend and is always close by. And today, still more is needed. I have a wonderful wife." Filin has three children.
17:16 Filin explains that he offered Vorontsova a role in Swan Lake. She looked startled. The next day Dmitrichenko came up and asked whether Filin had been serious, and Filin confirmed. And that was that with Vorontsova, Filin explains. "She is a good artist."
17:12 He notes that Angelina Vorontzova was promoted to soloist under his watch, adding that she really wanted to dance in Swan Lake. "Dmitrichenko began to think not only about his own affairs, but about her's," he says.
17:11 Filin asserts that he has never accepted a bribe, or money from an artist.
17:09 Filin goes on, "Nevertheless, work continued and he was good. At the same time, I was warned that Pavel was gathering compromising evidence against me. I was told that he was looking for my receipts, for mistresses."
17:08 Filin said that after Dmitrichenko's note, the conflict seemed to have settled. But then, everytime an opportunity arose for Dmitrichenko to come out against Filin, he seemed to embrace it. According to Filin, Dmitrichenko "did his utmost to slander me."
17:07 Filin refers to Dmitrichenko as short-tempered and emotional.
17:06 We are told that at one point Dmitrichenko asked Filin not to take a certain tone of voice with the best artists in the world, and then Dmitrichenko called Filin and apologized for his rudeness.
17:02 He notes that it is difficult to understand Dmitrichenko's inner world.
17:00 "Trust me," Filin urges, "I have always loved and respected people that work in the theater, and it was never my goal to ruin anyone."
16:57 Most young artists are sincerely promoted, as Dmitrichenko was, Filin tells us. By the way - fun fact. Dmitrichenko will turn 30 on January 3.
16:56 The way it works, we're told, is that teachers give advice after observing the dancers during lessons, and the candidates are then discussed seriously.
16:55 Filin adds that he has always done his part to ensure that all artists are given a chance to participate in productions.
16:54 He goes on to explain that it was he who make recommendations and suggestions on which artist should participate in a given role or performance, but the final decision rested with the choreographer. He adds that everything is agreed upon by all parties, and this has always been the case.
16:51 According to Filin, he was offered the position of Artistic Director in 2011. The role of Artistic Director is to determine repertoire policy, and to lead and form the ballet, Filin explains.
16:50 Filin wants to start the discussion with the tale of how he got started at the Bolshoi, which he tells us is because of something that Dmitrichenko said about him.
16:46 And now the claim: as a result of what happened to Filin, his bag, watch, iPhone, shirt, and jacket were all damaged, costing about 200,000 rubles. Also included in the costs are transportation fees. Furthermore, Filin seeks compensation for physical and moral suffering. All things considered, he would like to collect 3,508,000 rubles.
16:42 The judge will read out the medical records: increased risk of infection, poor vision, the necessity of continued treatment, etc.
16:42 Filin requests the initiation of a civil suit, seeking 508,000 rubles in pecuniary damage and 3 million in moral damages. The defense says it doesn't need time to review the documents.
16:31 A commission of doctors has provided Filin with an affidavit of sorts. There is a doctor present in the courtroom that can answer any questions that may arise in court.
16:30 The prosecutor proposes questioning the victim, and everyone is for it.
16:27 Presiding judge Elena Maximova tells Filin his rights.
16:26 Dmitrichenko is clutching two sheets of paper. Apparently, they're filled with questions for Filin - tons of them.
16:24 The judge calls the victim to the stand - the victim being Filin.
16:22 We're starting.
16:22 Are you totally sitting there right now thinking, "I wish I was reading this in Russian"? Don't worry - dear reader, we've got you covered.
16:19 Just for the record, although a battle of the reporters did in fact ensue, RAPSI clawed its way in first. It's all for you, readers.
16:18 Filin still isn't in the courtroom itself. He is apparently in a small office adjacent to the courtroom.
16:15 The accused have entered the room, accompanied by a guard dog.
16:12 There are a lot of grumpy journalists and photographers grumbling about Filin's use of a separate entrance. No one had time to take pictures.
16:08 Filin has arrived, wearing dark sunglasses to match his dark suit.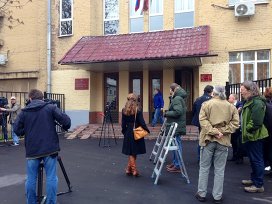 © Diana Gutsul, RAPSI
Moscow's Meschansky District Court
16:04
The hearing will be held in a large courtroom, which comes as a major relief to the journalists who - as usual - came battle ready. One accredited journalist was unable to rejoice with the rest of us, however, as he was turned away - ostensibly due to smelling a bit boozey. He argued that he had just returned from lunch, but they weren't buying it.
16:02 Lawyers for Dmitrichenko and Zarutsky are already in place.
15:59 Today we will listen to Filin's side of the story. You may recall that he has previously stated that he knows who carried out the attack.
15:55 Eventually, Andrew Lipatov - who was unlucky enough to have been allegedly driving the attack car, and Zarutsky were arrested as well. Dmitrichenko said after the arrest that he had organized the attack, but that things then apparently got out of hand.
15:52 To briefly bring you up to speed on the goings on of the present case, Filin was victimized by an acid attack in Moscow on January 17, 2013. Bolshoi Ballet soloist Pavel Dmitrichenko was then arrested and named as a suspect.
15:45 Good afternoon, dear readers! Welcome to RAPSI's live text broadcast of the ballet trial of the century. Very soon, Bolshoi Ballet Artistic Director Sergei Filin, who was victimized by an acid attack in January 2013, will begin testifying in court. We should be starting at about 16:00 Moscow time. With you this afternoon are Diana Gutsul, Ingrid Burke, and Alexander Karpov.
Background
Filin suffered third-degree burns to his face and eyes on January 17 when unknown assailants attacked him with what is believed to have been concentrated acid. Shortly after the attack, a Bolshoi Theater spokesperson confirmed that Filin had received various threats.
Three men were arrested in March in connection with the attack, including Pavel Dmitrichenko, a leading Bolshoi soloist, the alleged attacker Yury Zarutsky and driver Andrei Lipatov. They each face 12 years in prison if convicted.
Filin returned to Moscow last September after six months of treatment in a German hospital. He has undergone more than 20 eye surgeries, and German doctors said that Filins eyesight had improved significantly. After losing over 90 percent of his vision in his left eye and becoming totally blind in his right eye, 80 percent of the vision in his left eye has been restored, and he can distinguish big objects with his right eye.
Filin suggested that the aim of the attack may have been to remove him from his position as artistic director and to destroy the prestigious Moscow ballet company's reputation.