Artist faces hooliganism charges after nailing genitals to Red Square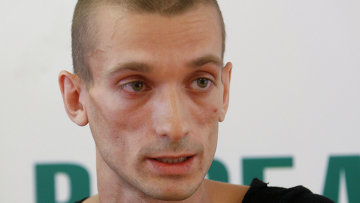 10:29 15/11/2013
MOSCOW, November 15 (RAPSI) – Moscow police has initiated a criminal case on the charges of hooliganism against performance artist Pyotr Pavlensky, who attracted international attention after nailing his scrotum to the cobblestones in Moscow's Red Square.
On Sunday, Pavlensky came to Moscow's Red Square, stripped naked and then proceeded to nail his genitalia to the cobblestones. Paramedics took the man from the Red Square, and after refusing hospitalization, he spent the night in a police station.
Pavlensky was released the next day, after Moscow's Tverskoy District Court remanded his case to the police based on a procedural error. If convicted, Pavlensky could face a fine or up to 15 days in jail.
This is not Pavlensky's first performance involving self-inflicted injuries. During the summer of 2012, he stitched his mouth shut and protested in front of Saint Petersburg's Kazansky Cathedral in support of the jailed Pussy Riot members.