Defense demands to dismiss case against Russian opposition leader Udaltsov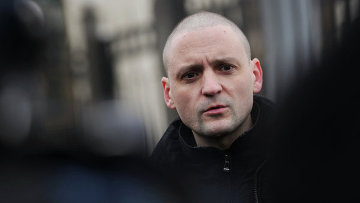 13:18 18/11/2013
MOSCOW, November 18 (RAPSI) - Lawyers have filed with the Investigative Committee a request to terminate a criminal case in relation to Left Front leader, opposition activist Sergei Udaltsov, owing to the absence of elements of a crime in his actions, according to Udaltsov's Twitter account.
The defense appealed to the investigators because Udaltsov and Leonid Razvozzhayev, another activist charged with organizing riots on May 6, 2012, finished reviewing case materials.
According to the statement, the investigators must grant or reject the motion within three days.
Udaltsov has been accused of organizing riots and using violence against police during a rally on May 6, 2012 in Moscow's Bolotnaya Square and organizing mass riots in Russia. In October 2012, he was ordered not to leave the city. On February 8, investigators requested to have him placed under house arrest, as he allegedly violated the former ruling.
The criminal case in 2012 May 6 riots was initiated after the "Anatomy of Protest 2" documentary film was shown on the NTV broadcasting network. The film claimed that the opposition was organizing a coup using funds from abroad and showed Left Front movement coordinator Udaltsov and his companions allegedly talking with Georgian politician Givi Targamadze, who at the time headed Georgia's Parliamentary Defense and Security Committee, and is said to have been involved in planning the "color" revolutions in Georgia and Ukraine, as well as the mass riots in Belarus.