Constitutional Court to rule on applicability of ECHR decisions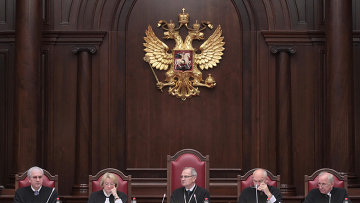 11:40 06/12/2013
ST. PETERSBURG, December 6 (RAPSI) – Russia's Constitutional Court ruled on Friday that it alone can adopt decisions on the applicability of laws that hinder the implementation of rulings of the European Court of Human Rights which have not previously been defined as contradictory to the Russian Constitution.
The Constitutional Court adopted this ruling in connection with the case of retired military officer Konstantin Markin, a divorced father of three who was denied the right to parental leave in 2005. The Constitutional Court upheld this decision in 2009, saying that, according to the Federal Military Service Act, military personnel enjoy rights and freedoms with certain restrictions and parental leave is only granted to female military personnel.
In 2012 the ECHR declared the Russian court's decision to be in breach of Articles 8 and 14 of the European Convention on Human Rights, which concern the right to respect for private and family life and prohibit discrimination.
Markin subsequently requested the Russian courts to reconsider his request in view of this ruling.
In February 2013, the Leningrad District Military Court asked the Constitutional Court to clarify the procedure in the event of contradictions between Russian and international legislation.