Amnesty International calls to prevent extradition of ex-BTA Bank head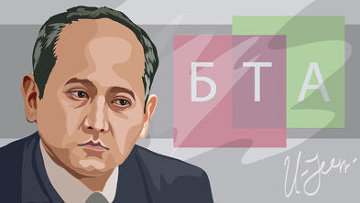 10:26 10/01/2014
ALMA-ATA, January 10 (RAPSI) – Amnesty International appeals to the French authorities to prevent the extradition of fugitive ex-CEO of BTA Bank Mukhtar Ablyazov to Russia or Ukraine, according to the NGO's statement released on Friday.
"Not only do we have fears that Ablyazov would not get a fair trial in Russia or Ukraine, there is the real danger that he will eventually end up in Kazakhstan, where he will be at risk of torture and other ill-treatment," says Julia Hall, Amnesty International's expert on counter-terrorism and human rights.
Ablyazov was detained on July 31 near Cannes, France. Kazakhstan, Russia, and Ukraine are all seeking the extradition of the fugitive banker. Kazakhstan and France do not have an extradition treaty and extradition to Russia may be hindered for procedural reasons, so Ukraine remains the choice destination.
"European governments, including France, must set an example and guarantee that Ablyazov's human rights are respected and protected. Otherwise, Europe becomes deeply implicated in the on-going human rights violations that plague Central Asian republics, including Kazakhstan, where torture and ill-treatment of detainees and prisoners are commonplace," Julia Hall added.
Kazakhstan is seeking the extradition of Ablyazov, who fled to the UK after the Kazakh government acquired a stake in defaulted BTA in 2009 and the bank came under the control of its sovereign wealth fund Samruk-Kazyna. Ablyazov, 50, is accused of embezzling billions of dollars from BTA.
Ablyazov, the bank's former chairman, fled to Britain and was granted political asylum in 2011. He left the country a year later when a High Court judge in London sentenced him to 22 months in prison for contempt of court.
BTA has filed 11 law suits in London accusing its former top management of embezzling $6 billion. Ablyazov claims the charges against him are politically motivated.
The High Court ordered Ablyazov to pay $400 million in damages to BTA in November after ruling that the bank had been defrauded of $300 million in a case relating to a portfolio of AAA-rated securities.