Former Dagestan mayor Amirov appeals to Russian Prosecutor General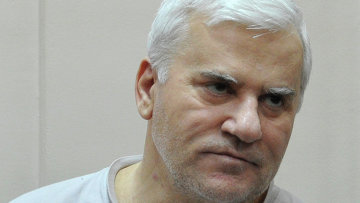 11:26 24/01/2014
MOSCOW, January 24 (RAPSI) – Lawyers of former Makhachkala Mayor Said Amirov, who faces accusations of having ordered the murder of an investigator, have appealed to Russia's Prosecutor General Yury Chaika asking to appraise the case investigation, Kommersant daily reported Friday.
Amirov has been the mayor of Makhachkala, the capital of the southern Russian region of Dagestan, since 1998. A long-term member of the ruling United Russia party, Amirov won the title of the country's best mayor in late April, according to his administration's website.
He was arrested on June 1 and transported to Moscow, where he was taken into custody on suspicion of having ordered the murder of investigator Arsen Gadzhibekov in the Dagestan city of Kaspiysk in 2011. Amirov has denounced the case as politically motivated.
Gadzhibekov, chief of the investigation department in Makhachkala's Sovetsky District, was shot dead near his home as he was getting out of his car. He had worked on a number of crimes, including the 2010 terror attack in Kizlyar that killed 10 and injured 270.
On June 4, charges were officially brought against Amirov. The investigators believe that he ordered the assassination, which was organized by Magomed Abdulgalimov with accomplices.
On October 28, Amirov was also charged with terrorism and illegal arms trafficking. Investigators found that former mayor and his accomplices planned to fire at a plane of Amirov's political opponent Sagid Murtazaliyev by a man-portable air defense system.
The probe into former Makhachkala Mayor earlier has been extended until February 28.