NYC to pay $6.4 mln to man exonerated after 22 years in prison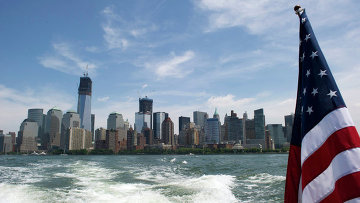 16:12 21/02/2014
MOSCOW, February 21 (RAPSI) - New York City will pay out $6.4 million to David Ranta, a man who served over 22 years in prison before prosecutors discovered that he had been framed, City Comptroller Scott Stringer announced Thursday.
According to a profile on the case produced by the University of Michigan School of Law's National Registry [registry] of Exonerations, Ranta was convicted in 1991 of having murdered a rabbi in Brooklyn, New York. He was sentenced to a term of 37.5 years to life. In 2013, after having spent upwards of two decades in prison, he was exonerated.
According to the registry, in 1990 an armed man attempted to rob a jewelry courier. When the courier managed to drive off, the gunman approached a rabbi who was warming up his car nearby, and shot the rabbi in the head before tossing his body on the street and driving away. Witnesses described the gunman as tall, blonde, and clean-shaven. A $10,000 reward was offered for information on the murder. The search produced over 100 names, including a man named Thomas Joseph Astin, who was killed in a car crash during a police chase.
After Ranta's conviction, Astin's wife – who at the time was facing a drug charge – came forward and said that her husband admitted to having killed the rabbi prior to his fatal car accident. Ranta moved for a new trial, but the motion was denied due to credibility issues related to the affiant's drug charges.
In 2011, the Kings County District Attorney's Conviction Integrity Unit launched a new investigation into the Ranta case. It was revealed that one witness who had identified Ranta in a police lineup was instructed by a detective to choose the suspect with the biggest nose, which was apparently Ranta.
The Unit further discovered that two prisoners who had testified against Ranta were given certain perks by police during the interrogation period. At the time, prosecutors discovered, they had both been permitted to leave jail, do drugs, and solicit prostitutes in exchange for implicating Ranta, according to the registry. One of the two later recanted his testimony, and the other died in the interim.
In March 2013, his convictions were vacated and he was released. He then filed a $150 million claim.
In a statement Thursday, Comptroller Stringer said: "After a review process and negotiations, my office was able to reach a settlement with Mr. Ranta that is in the best interests of all parties and closes the door on a truly regrettable episode in our City's history. I am pleased that my office was able to move quickly to resolve this claim."