Family of injured Russian boxing champ to sue New York over brutal match – report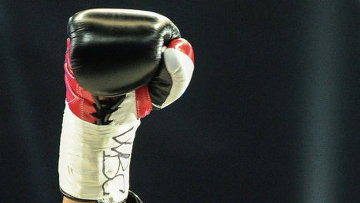 14:57 24/02/2014
MOSCOW, February 24 (RAPSI) - The family of Russian boxer Magomed Abdusalamov, who was badly injured in a New York City boxing match in November, is preparing to sue the state of New York and its Athletic and Boxing Commissions, the Associated Press reported Saturday.
In November 2013, RAPSI's sister agency R-Sport reported that Abdusalamov had lost his title to Cuba's Mike Perez in a match in Madison Square Garden.
According to the AP report, Abdusalamov's wife Bakanay has filed court documents in preparation for the suit, and that she claims that officials failed to stop the match while her husband was being very badly beaten. His jaw, hand, and nose were broken, and two hours later, he was comatose, according to the report.
A fund has been established by Abdusalamov's promoter and others in the industry to help alleviate the cost of medical care, according to website Max Boxing. A statement detailing the fun on the website reads, "32-year-old Abdusalamov had to have emergency surgery to remove a blood clot, and part of his skull had to be removed to reduce swelling, following his brutal 10-round war against Mike Perez at The Theater at Madison Square Garden, on Saturday, November 2."
After suffering the first knockdown of his professional career, Abdusalamov told RIA Novosti in September 2012, "It's nothing awful. Boxing is boxing… So now I know what a knockdown is. That's not happened in my career before."