FC Spartak wins claim against swastika-waving fan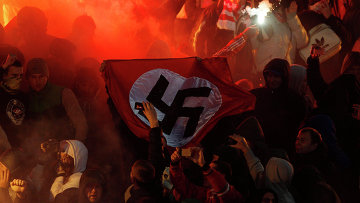 15:13 25/02/2014
MOSCOW, February 25 (RAPSI) – The Leninsky District Court of Vladimir, a city in the south-western Russia, has granted in part a lawsuit filed by Spartak Moscow against a football fan, whose swastika-waving antics at the team's Russian Cup match against Shinnik Yaroslavl incurred a big fine for the Russian football club, R-Sport reported Tuesday.
The court ordered the football fan who is reportedly a resident of the Vladimir Region to pay around 1,5 million rubles ($42,240) to the team. In November, the Russian football association fined Spartak $16,896 and ordered to play two games behind closed doors. Spartak was seeking to recover some 15 million rubles ($422,402) in compensation from the fan.
FC Spartak Moscow is one of the country's most successful football clubs that won 12 Soviet championships and 9 of 19 Russian championships. They have also won the Soviet Cup 10 times and the Russian Cup 3 times.
Meanwhile , Shinnik FC, Spartak's opposing team in that match, is staying on the brink of bankruptcy. The Yaroslavl Region Commercial Court on March 24 will consider a lawsuit filed by Pro Sports Management , a consulting and management company that organizes and delivers more than just sporting events, in which it asks to declare the team bankrupt.
Established in 1957, Shinnik played in the premier league only once. The 4th place in the 1997 national cup was the acme of its success. Since 2009, Shinnik has been playing in the first leagueю