Russia places Ukrainian ultra-nationalist Yarosh on wanted list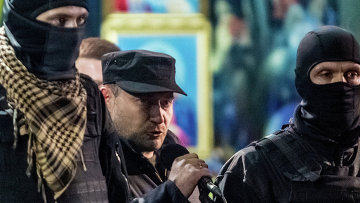 13:04 05/03/2014
MOSCOW, March 5 (RAPSI) – On Wednesday, Russian investigators placed the leader of the Ukrainian far-right, ultra-nationalist movement "Right Sector" Dmitry Yarosh on an international wanted list, according to the official spokesman for the Investigative Committee Vladimir Markin.
Yarosh was charged in absentia with public endorsement of terrorist and extremist activities. Yarosh may be facing liability of up to 7 years in prison, if convicted in Russia.
The international wanted list notification will obligate any state participating in Interpol joint efforts to detain Yarosh and prepare him for extradition to Russia.
Earlier, Yarosh publicly appealed to North Caucasus militant commander Doku Umarov for help, in a statement made through Right Sector's page on popular Russian social network VKontakte.
Umarov, the self-proclaimed head of a secessionist group in the North Caucasus, has claimed responsibility for several terrorist attacks in Russia and, most recently having threatened to attack the Winter Olympics in Sochi.
Russian telecom regulator, Roskomnadzor, on Monday restricted access to 13 groups within Russia's largest social network Vkontakte. According to the Prosecutor General's Office, these groups promoted the Ukrainian nationalist cells, and called for terrorist activities on Russian territory.