Ukrainian governor detained on suspicion of separatism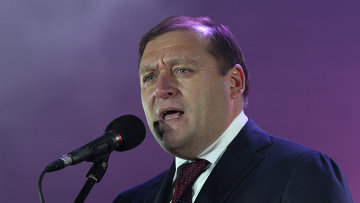 10:41 11/03/2014
SIMFEROPOL, March 11 (RAPSI) – Former governor of Kharkiv Region in Ukraine Mikhail Dobkin was detained in Kiev on Monday, he is accused of promoting secessionism, the Ukrainian Prosecutor General's Office reports.
The investigation was initiated after Dobkin's public statements made at a conference in Kharkiv on February 12. "Former Kharkiv Governov Dobkin called for decentralization of authority in Ukraine through regional federalization, and establishing a New Russian Commonwealth," the prosecutors' statement reads.
Dobkin was elected Governor of Kharkiv in 2010. In late February he announced that he would take part in the early presidential elections set by ousted president Yanukovich for May 25, and turned the governor's office over to his aide.
On February 22, the Verkhovna Rada impeached Viktor Yanukovich and amended the constitution. The presidential powers were assigned to the parliament speaker Alexander Turchinov. The parliament scheduled presidential election for May 25.
At a news conference in the Russian southern city of Rostov-on-Don, Yanukovich said that he was forced to leave Ukraine under a threat to his life but he remains the legitimate president of the country.
Russia has filed an inquiry with the Venice Commission seeking answers on the legitimacy of decisions made by the Ukrainian Verkhovna Rada.