US court ok's references to 9/11, bin Laden during Abu Hamza trial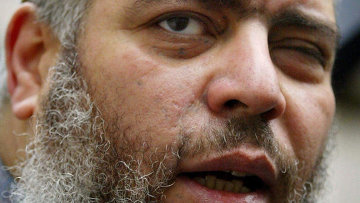 16:32 14/03/2014
MOSCOW, March 14 (RAPSI, Ingrid Burke) - With only one month to go before the launch of the hotly anticipated US terrorism trial against Mostafa Kamal Mostafa (Abu Hamza), the court denied on Thursday a defense motion to preclude mention of the September 11 terror attacks, Osama bin Laden, and other hot-button issues at trial.
Meanwhile, a new handwritten letter released by the court Thursday exposes Abu Hamza's continued discontent with his defense team's strategy. "I [hoped] that I would not need to touch those issues again, nor to write yet another letter. However, I thought it is more appropriate and orderly to write a letter than try to raise my half arm during the next conference," the defendant wrote, in an apparent nod to his two amputated forearms.
Abu Hamza faces charges in connection with a 1998 hostage crisis in Yemen, the attempted establishment of a "jihad training camp" in the American state of Oregon, and the support of "violent jihad" in Afghanistan between 2000 and 2001. Trial is set to commence on April 14, and is expected to last for approximately six weeks.
In an earlier letter to US District Judge Katherine B. Forrest, Abu Hamza had expressed his desires to testify on his own behalf and to speak freely about the people, organizations, places, and terms referenced in his indictment.
The letter was penned after the defense team filed a motion in January seeking to preclude prosecutors from referencing Osama Bin Laden or the September 11th attacks during the course of his upcoming trial, noting that the attacks will remain heavy on the minds of those filling the jury boxes of every terrorism trial carried out in the US for quite some time.
Abu Hamza's letter stated to the contrary: "I was very surprised to notice, during the last two hearings, that you had not been informed that I am testifying, and that I do not want to exclude, or avoid mentioning, any of the… people, organizations, places or terms that have been mentioned in my indictment." The indictment makes numerous references to both Bin Laden and al Qaeda.
Emphasizing his surprise after having thought that the relevant information was made clear to his defense team, Abu Hamza reasoned that, "a gap of no visits, as well as other factors might have contributed to such situation."
Abu Hamza's newest letter notes that he was advised during a March 6 meeting that the defense team had decided to move forward with efforts to preclude references to 9/11 and the like, having concluded that doing so would be in his best interest.
Although commending his team "for doing their utmost to highlight [his] innocence," Abu Hamza expressed dismay, claiming that his 2006 UK trial was marred by improper interference.
Accordingly, he wrote the letter in order to reiterate several key points. Namely, he voiced his agreement with prosecutors that such issues as September 11 should be raised freely at trial, by both the defense and the prosecution. He then reiterated his desire to testify at trial.
After discussing the contents of the letter during a status conference on Wednesday, Judge Forrest ordered: "Defendant's motion in limine to preclude the Government from referring at trial to [bin Laden], the September 11, 2001 attacks, and related individuals is denied."
Abu Hamza's indictment alleges that he conspired with others in December 1998 to take a group of Western tourists hostage in Yemen. The indictment explains: "On or about December 28, 1998, the hostage-takers stormed a caravan of sport utility vehicles carrying sixteen Western tourists and took the tourists hostage by use of force." The Yemeni military then attempted to rescue the hostages, at which point the "hostage takers used the hostages as human shields and attempted to fight off the Yemeni military," according to the indictment. Four hostages were killed and several wounded in the ensuing combat.
The indictment goes on to assert that Abu Hamza conspired with others and provided material support for a "violent jihad training camp" in Oregon. These efforts included, among other things, the stockpiling of weapons and ammunition within the US. The indictment goes on to allege that Abu Hamza's two co-defendants Oussama Abdullah Kassir and Haroom Rashid Aswat travelled to Bly, Oregon – telling individuals there that "they had been sent there by [Abu Hamza] to train people for jihad and to assess the suitability of the Bly, Oregon property for a Jihad training camp. [Kassir and Aswat] also both told individuals at the property that they supported [Bin Laden] and al Qaeda, and had received their own jihad training in Afghanistan."
Abu Hamza is further accused of having provided and concealed material support and resources to terrorists facilitating violent jihad in Afghanistan, and that Abu Hamza conspired to supply goods and services to the Taliban in violation of the International Emergency Economic Powers Act (IEEPA).
With regard to the latter, Abu Hamza allegedly posted messages on the Supporters of Shariah (SOS) website urging his followers to donate money, goods, and services to Taliban programs in Afghanistan. This activity is alleged to have occurred between Spring 2000 and at least September 6, 2001.
According to the ECHR judgment, Abu Hamza is a British national and was born in 1958. The judgment goes on to describe his myriad health problems, including: type-two diabetes, high blood pressure, poor vision in his left eye, no vision in his right eye, psoriasis, excessive sweating, and two amputated forearms. He gained notoriety with UK tabloids for the fact that he frequently sported a hook in place of one of his hands. The London Evening Standard reported in March, however, that Abu Hamza had received new plastic prosthetics after having been extradited to the US. The newspaper predicted that the taxpayer-funded prosthetics cost upwards of $15,000.