Ukrainian court closes case challenging legitimacy of acting president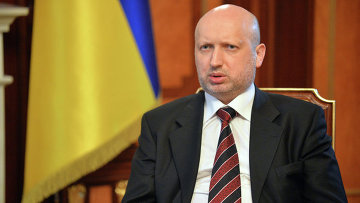 15:02 19/03/2014
KIEV, March 19 (RAPSI) – Ukraine's Supreme Administrative Court closed a case questioning the legitimacy of the country's acting president Aleksandr Turchinov, RIA Novosti reported Wednesday. Judges reasoned that the case should be reviewed by the Constitutional Court.
"Yanukovich remains the legitimate president, and according to the Ukrainian Constitution , lawmakers have to send ratified bills for him to sign in Rostov-On-Don (Russia)," argued plaintiff Vladimir Olentsevich, an attorney from Donetsk. The eastern Ukrainian city of Donetsk is a political stronghold for Yanukovich's Region Party.
On February 22, Ukraine's Verkhovna Rada (parliament) impeached Yanukovich and amended the constitution. Presidential authority was assigned to parliament speaker Alexander Turchinov and a presidential election was scheduled for May 25.
President Vladimir Putin said during a press conference earlier in March that Yanukovich remains Ukraine's legitimate president .